The best way to protect yourself from severe illness or death from COVID-19 is to get vaccinated and boosted.
In addition to getting vaccinated - and especially if you are not vaccinated - it is very important to continue to wear a mask, stay home if you are sick, and get tested for COVID-19 if you have any symptoms.
If you are fully vaccinated (received 2 doses of Pfizer or Moderna, or 1 dose of Johnson & Johnson) and not immunocompromised, you still have a high degree of protection from severe COVID-19 symptoms, hospitalization and death. 
While it is still most important that anyone who has not received a single dose of COVID-19 vaccine get vaccinated as soon as they can, the FDA and CDC recommend a "booster shot" (or one more dose) to offer extra protection.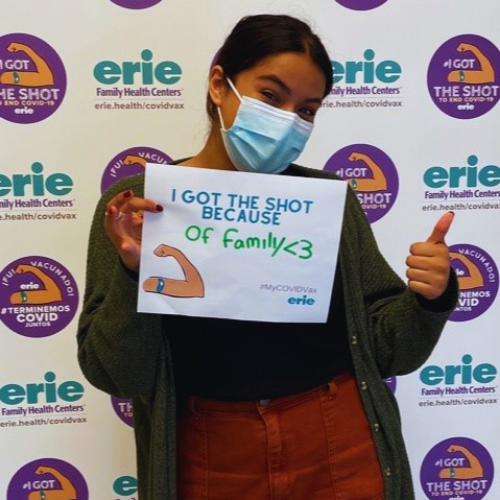 The Following People Should Get One More Dose of COVID Vaccine
Anyone who received the 1-dose Johnson & Johnson vaccine more than 2 months ago.

The FDA and CDC recommend that these people receive one dose of the Pfizer or Moderna vaccine to help boost your protection from severe COVID illness.
Anyone who received their 2nd dose of Pfizer (age 5 or older)  or Moderna (age 18 or older) more than 5 months ago.

Erie is providing the Pfizer COVID-19 vaccine for booster shots. The CDC's recommendations allow for this type of mix and match dosing for booster shots. (You may choose which COVID-19 vaccine you receive as a booster shot, and the Moderna vaccine is available at pharmacies around Chicago.)
Anyone age 5 and up who has a moderate to severely compromised immune system is especially at risk for developing severe illness from COVID-19, and may not have built the same level of immunity to a 1- or 2-dose vaccine as compared to people who are not immunocompromised. These people are strongly encouraged to receive an additional dose of the Pfizer or Moderna vaccine at least 28 days after their last dose to get the strongest protection.
Anyone over age 50, or anyone 5 and older who is moderately or severely immunocompromised. You are now eligible for a 2nd booster dose of an mRNA (Pfizer or Moderna) vaccine to help boost your protection from severe COVID illness.
Guidance for Anyone Vaccinated Outside of the US:
If you received one of the below COVID-19 vaccines outside of the US and completed the series, you are eligible for Pfizer booster in the US IF you are 18+ and it has been 6 months or more since your final dose:

Moderna
Pfizer/BioNTech
Janssen (Johnson & Johnson)
Oxford/AstraZeneca
Serum Institute of India (Covishield)
Bharat Biotech (Covaxin)
Sinopharm (Beijing)
Sinovac (CoronaVac)
CanSino Biologics (Convidecia)
Novavax/Covovax
If you received a completed or partial series of any other vaccine, you can start the Pfizer vaccine or Johnson & Johnson vaccine series at Erie. You will be eligible for a booster 2 months after your single dose of Johnson & Johnson,  or 6 months after your second dose of Pfizer.
More detail can be found on the CDC website.
If you meet the qualifications above, call Erie at 312-666-3494 to schedule an appointment for an additional vaccine dose.