Stay up to date with the latest COVID-19 vaccines and boosters to protect yourself from getting very sick or dying from COVID.
In addition to getting vaccinated - and especially if you are not vaccinated - it is very important to continue to wear a mask, stay home if you are sick, and get tested for COVID-19 if you have any symptoms.
Use this tool to find out if you, or your child, is due for the latest COVID booster:  
Flu is now spreading alongside COVID, so it's time to protect yourself. It is safe to get this updated COVID booster and your flu shot at the same time. Schedule your vaccines today!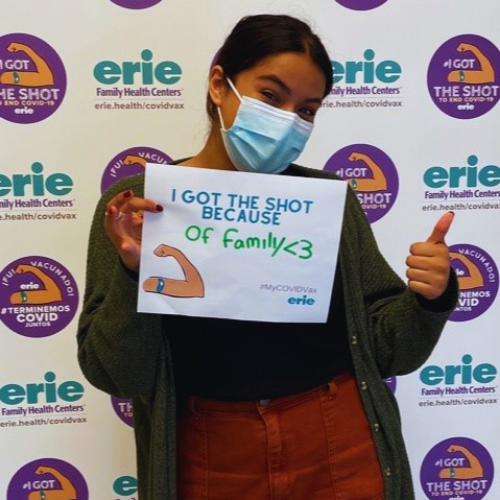 There's a stronger COVID booster now!
This updated COVID-19 booster vaccine gives you better protection against the current version of COVID that is making people sick.  
The virus that causes COVID-19 has changed over time, and so have the vaccines. The new, updated booster available since September 2022 (called the "bivalent booster") is specifically designed to protect you against the Omicron variants of COVID-19 currently causing most illness.  
Erie recommends that everyone ages 5 years and older get one updated ("bivalent") COVID-19 booster shot if it has been at least 2 months since your last COVID-19 vaccine dose, either: 
the first 2-dose vaccine series

OR your most recent booster 
 If you recently had COVID-19, you may consider delaying your next vaccine dose by 3 months from when your symptoms started or, if you had no symptoms, when you first received a positive test. 
You can find more information and guidance on the CDC website.

Guidance for Anyone Vaccinated Outside of the US:
If you received one of the below COVID-19 vaccines outside of the US and completed the series, you are eligible for Pfizer booster in the US IF you are 18+ and it has been 6 months or more since your final dose:Moderna
Pfizer/BioNTech
Janssen (Johnson & Johnson)
Oxford/AstraZeneca
Serum Institute of India (Covishield)
Bharat Biotech (Covaxin)
Sinopharm (Beijing)
Sinovac (CoronaVac)
CanSino Biologics (Convidecia)
Novavax/Covovax
If you received a completed or partial series of any other vaccine, you can start the Pfizer vaccine or Johnson & Johnson vaccine series at Erie. You will be eligible for a booster 2 months after your single dose of Johnson & Johnson,  or 6 months after your second dose of Pfizer.
More detail can be found on the CDC website.
If you meet the qualifications above, call Erie at 312-666-3494 to schedule an appointment for an additional vaccine dose.