COVID-19 is spreading quickly around our communities. The vaccine is the best tool we have to keep people from getting severely sick and dying from COVID-19.
There is new and developing guidance on a third dose of COVID-19 vaccine and COVID-19 "booster" shots for people who are already fully vaccinated.  Details are below.
In addition to getting vaccinated - and especially if you are not vaccinated - it is very important to continue to wear a mask, stay home if you are sick, and get tested for COVID-19 if you have any symptoms.
At this time, most people do not need a 3rd dose or "booster" shot.
If you are fully vaccinated and not immunocompromised, you still have a high degree of protection from severe COVID-19 symptoms.  Booster shots will likely be available soon. Erie will keep our patients updated.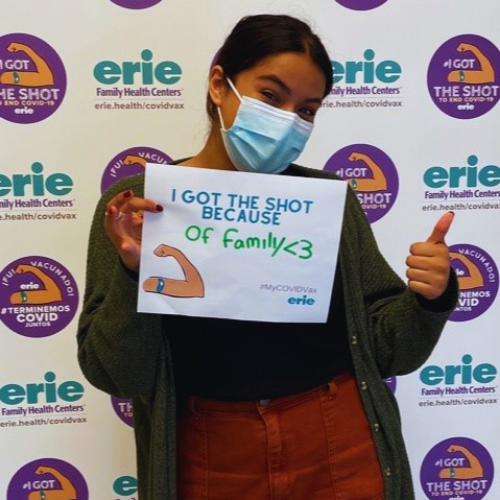 3rd Vaccine Dose for People Who Are Immunocompromised
The FDA and CDC have approved a 3rd "additional dose" only for people age 12+ who are immunocompromised and originally received the Pfizer or Moderna vaccine.
This is a small group of people. To qualify you must:
Have cancer and are receiving treatment
Have had an organ transplant
Have underwent CAR T-cell or stem cell transplant within the last two years
Be taking medicine to suppress the immune system, such as high-dose corticosteroids or biologics that are immunosuppressive
Have moderate or severe primary immunodeficiency
Have an advanced or untreated HIV infection
The 3rd dose should be received at least 28 days after the second dose and should be the same mRNA vaccine as previously received (Pfizer or Moderna).
Scientists are still studying whether an additional dose is necessary for people who received the one-dose Johnson & Johnson vaccine.
If you meet the qualifications above, call Erie at 312-666-3494 to schedule an appointment for an additional vaccine dose.
Update on Booster Dose for Fully Vaccinated People Who are Not Immunocompromised
The federal government recently announced that "boosters" (3rd vaccine doses) will soon be available for the general public several months after they have completed the Pfizer and Moderna vaccine series.
Erie is not providing booster shots to anyone who does not meet the "immunocompromised" criteria just yet. The CDC and FDA are evaluating authorization for these boosters, and Erie will follow CDC guidance. We will keep our patients updated.
Note on Vaccine Availability for Children Under 12 Years Old
Right now, COVID-19 vaccine is currently only available for people age 12 and older. Pfizer is expected to apply for Emergency Use Authorization for its vaccine for kids aged 5 – 11 by the end of September. Erie is closely following the news, and will update our patients when the vaccine is approved and available for these younger children.