We are happy you scheduled your COVID-19 vaccine appointment with Erie! We want you to know what you can expect when you come to get your shot.
What should I bring to my vaccination appointment?
You do not need to pay anything for the vaccine – it's completely free to you. And you do not need insurance to get the vaccine either.
If you DO have insurance, however: Please bring your insurance ID card to your vaccine appointment, as your insurance company may be billed.
Everyone: Please bring any form of identification with your name and photo.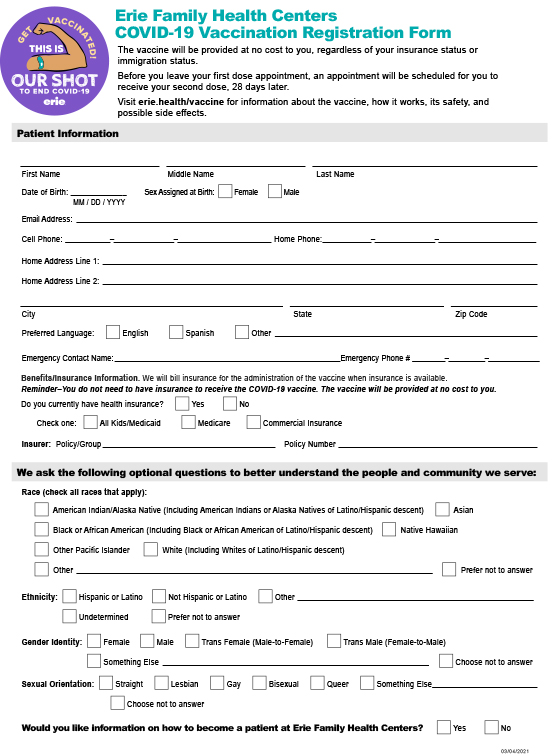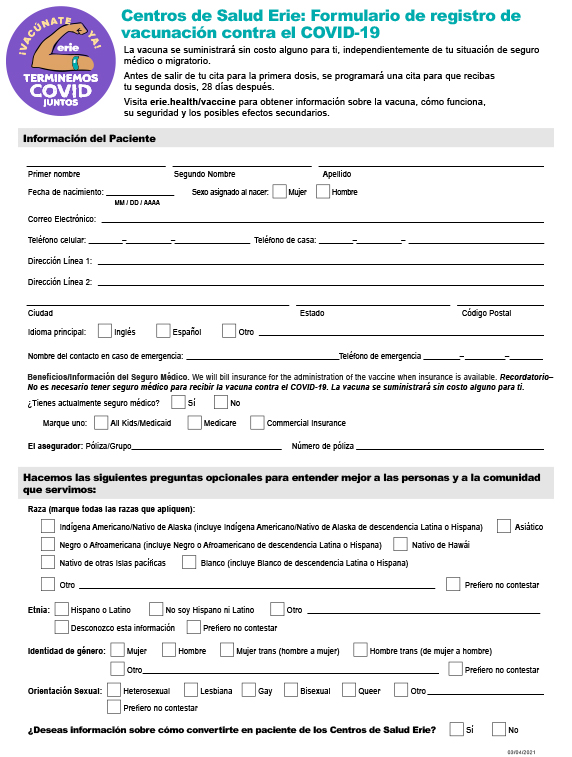 Your COVID-19 Vaccine Visit.
When you arrive at Erie for your first dose of vaccine, you will show the Erie representative your ID. You will be given some paperwork to complete and review before your vaccination:
The Emergency Use Authorization: this document includes all the information from the clinical trials of each vaccine and is just for your information.

 

Erie Consent for Vaccine form: this form asks some questions about your health and must be signed to tell us you give Erie consent to give you the COVID-19 vaccine
V-Safe Information and Registration form: V-Safe is a totally optional program run by the CDC. If you choose to participate, you will scan the QR code on your phone and receive text messages and online surveys asking you to report on any side effects you may feel after you get vaccinated.
CDC Vaccination Card: You will fill in your name and date of birth on this card, and give it to the healthcare provider who will vaccinate you. They will write down the type and date of your vaccine and give it back to you. This card is yours to keep as a record that you have been vaccinated. If you get either the Moderna or Pfizer vaccines, which require a second dose, you will need to bring this card to your 2nd dose appointment. No matter what vaccine you get, keep this card in a safe, easy to find place!

 

Erie Registration Form: If you are not a current Erie patient, you will be asked to fill out a registration form with your contact information and some other optional data about yourself.
If you want to save time at your appointment, you can download and print the Registration Form, fill it out, and bring it with you:

If you are receiving the vaccine made by either Moderna or Pfizer, you will need to come back to Erie to get a second dose in 4 weeks. Erie will schedule your appointment for this second dose before you leave.
After you receive your COVID vaccine, you will have to wait in the observation room for 15 minutes, or 30 minutes if you have a history of any allergic reactions.
The most common side effects are mild:
Pain or swelling at the site of the injection (upper arm)
Fatigue or lack of energy
Headache
Muscle aches or joint pain
Fever
Many people report that the side effects are more noticeable after the second dose (if it is a two-dose vaccine). Any side effects typically go away after a day or two.
After you get your vaccine, it is okay to take pain relievers such as acetaminophen (Tylenol), ibuprofen (Advil) or aspirin according to the directions on the bottle to help relieve any pain or fever. Do not take Tylenol or Ibuprofen before coming in to get your vaccine.
Moderna or Pfizer (two dose vaccines): While you receive some protection after the first dose, neither vaccine is fully effective until two weeks after you receive your second dose.
Johnson & Johnson (one dose vaccine): This vaccine is fully effective two weeks after you get your shot.
The CDC issued the first set of recommendations for people who are fully vaccinated. Remember: people are considered fully vaccinated two weeks after they have received the second dose in a two-dose series (Moderna or Pfizer) or two weeks after they have received a single-dose vaccine (Johnson & Johnson).
Fully vaccinated people can:
Visit with other fully vaccinated people indoors without wearing masks or physical distancing
Visit with unvaccinated people from a single household who are at low risk for severe COVID-19 disease indoors without wearing masks or physical distancing
Refrain from quarantine and testing following a known exposure if they don't have COVID symptoms
For now, fully vaccinated people should continue to:
Wear a mask and social distance in public
Wear a mask and social distance when visiting with unvaccinated people who are at increased risk for severe COVID-19 disease or who have an unvaccinated household member who is at increased risk for severe COVID-19 disease
Wear a mask and social distance when visiting with unvaccinated people from multiple households
Avoid medium- and large-sized in-person gatherings · Get tested if experiencing COVID-19 symptoms
Follow guidance issued by individual employers
Follow CDC and health department travel requirements and recommendations
Even after we get vaccinated, we will all need to continue wearing a mask and social distancing in public for a while. We know that the vaccine protects you from getting sick from the virus that causes COVID-19, but we don't yet know how much it prevents you from spreading the virus, or how long your protection lasts. As more and more people get vaccinated and more data becomes available, safety measures may be able to be dialed back.