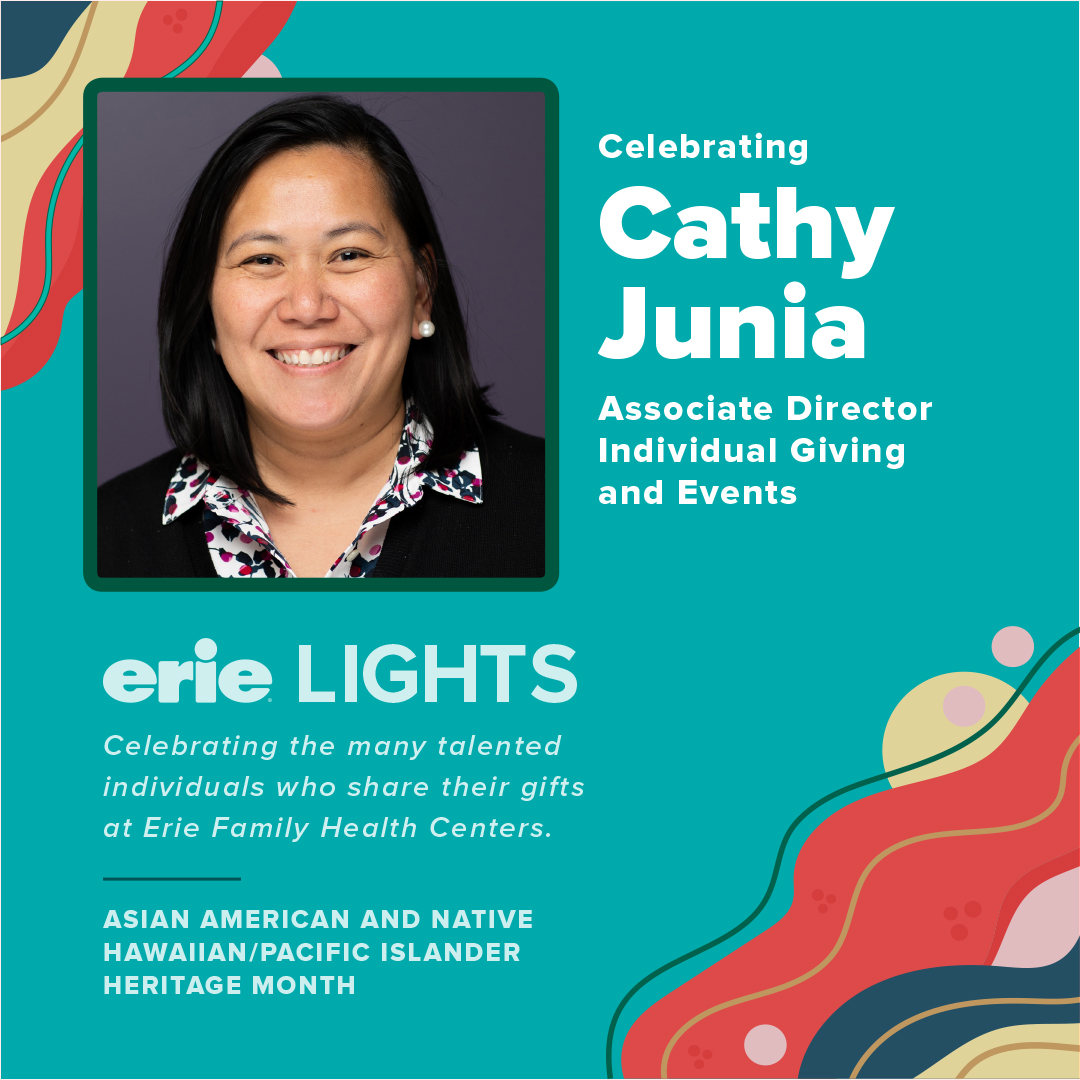 Cathy Junia, Associate Director of Individual Giving and Events, has been with Erie Family Health Centers for four years. With over 18 years of experience in the nonprofit sector, Cathy brings a wealth of knowledge and expertise to her role. Despite her busy schedule, Cathy always makes time for the people she cares about. Learn more about her experiences by reading her profile on the Erie Lights website. 
 What inspired you to pursue a career in your field?  
I stumbled into fundraising by chance, but I'm glad I did. My first boss in the nonprofit world was a brilliant organizer who saw fundraising as a way to build power and create change. That resonated with me. Through the years, I've witnessed how the power of storytelling, connection, and community can transform lives. It's inspiring, and I feel honored to do this work. 
How did you first become interested in working at Erie? 
I applied to Erie twice. The first time, I didn't know much about community health centers. But after my first interview with Melissa Hilton (Vice President, Development), I knew for sure I wanted to work here. What impressed me was how Erie goes above and beyond to care for patients beyond just treating their illnesses. I appreciated learning about the different resources that show a genuine commitment to caring for the whole person. As a bonus, everyone I met during the interview process seemed genuinely happy to be here and committed to Erie's mission. Although our timelines didn't align the first time, I was glad another opportunity opened soon after.   
Can you walk us through your typical workday as an Associate Director of Individual Giving and Events? 
Every day feels a little different. Depending on the time of year, my workday may involve reviewing gift reports, reaching out to donors, or selecting vendors for upcoming events. But no matter what, my top priority is always cultivating strong relationships with our individual donors and implementing fundraising strategies to support our mission. 
As our Individual Giving and Events team has grown, I've had the pleasure of supporting and collaborating with talented colleagues. Additionally, I work closely with our VP of Development, who provides invaluable guidance and partnership in my work. 
What is the most rewarding aspect of your job?  
It's truly incredible to witness the generosity and passion of Erie's donors and volunteers in action. Whether they're giving their time or resources, seeing people from different backgrounds engage with our mission and feel moved by Erie's impact is inspiring. 
For me, fundraising isn't just about raising money - it's about building connections and creating a sense of community. When people come together to support a cause they believe in, it's a beautiful thing. It's so rewarding to be a part of that work at Erie. 
Is there a personal accomplishment that you're particularly proud of?  
Although it has consistently been a neck-on-neck race between the dump trucks, street sweepers, and me (slowpoke here!), I am proud to have completed six marathons, and I look forward to once again hobbling my way to the finish line this October.  
Sidenote: If anyone else is registered for the Chicago Marathon and not already running for a charity, would you be interested in dedicating your run to Erie? What if we created an unofficial charity fundraising group? Message me if interested. 
What are some of your favorite hobbies or pastimes outside of work? 
I enjoy food, live music, and family time. Thankfully, my husband is a musician who shares my enthusiasm for eateries, and my sister has the most adorable little kids who never seem to run out of energy. My outside-of-work time is covered between them.  
 What is something most people don't know about you? 
I was an undocumented immigrant for many years, and the most common reaction I received when I shared my story was disbelief. "But you're/you're not... (insert stereotype)." I quickly learned that many people have preconceived images of unauthorized immigrants based on harmful stereotypes and false narratives that vilify one group and ignore others. At the same time, I also saw abundant kindness and support from people willing to help. 
 Do you have a favorite book, musician, or artist?  
It's tough to pick a favorite, but these days, the Gen-X'er in me is thrilled that Everything But the Girl has released a new album after over 20 years.  
What does being Asian-American mean to you? 
I've always found it challenging to identify with the term "Asian American." I'm unsure if it is because I was born in the Philippines and spent half of my life there or if it's baggage from my complicated immigration journey. But as an Asian immigrant in America, I take immense pride in being a member of the Asian American, Native Hawaiian, and Pacific Islander (AANHPI) community. Our community has diverse stories, cultures, experiences, and challenges. And let's remember all the amazing food, music, art, movies, and books!  
What steps can we take as a society to better honor and appreciate the contributions of Asian Americans, Native Hawaiians, and Pacific Islanders throughout history? 
To truly appreciate and honor the contributions of AANHPI communities, we need to acknowledge and celebrate the diversity within these communities. Our stories and experiences have been minimized for too long by lumping us all together. It's awesome to see that Illinois requires Asian American history in schools now, and it should be a standard nationwide. We all can do more to learn, recognize, and value the unique histories and contributions of different AANHPI communities and highlight the contributions of those often overlooked in the mainstream media.