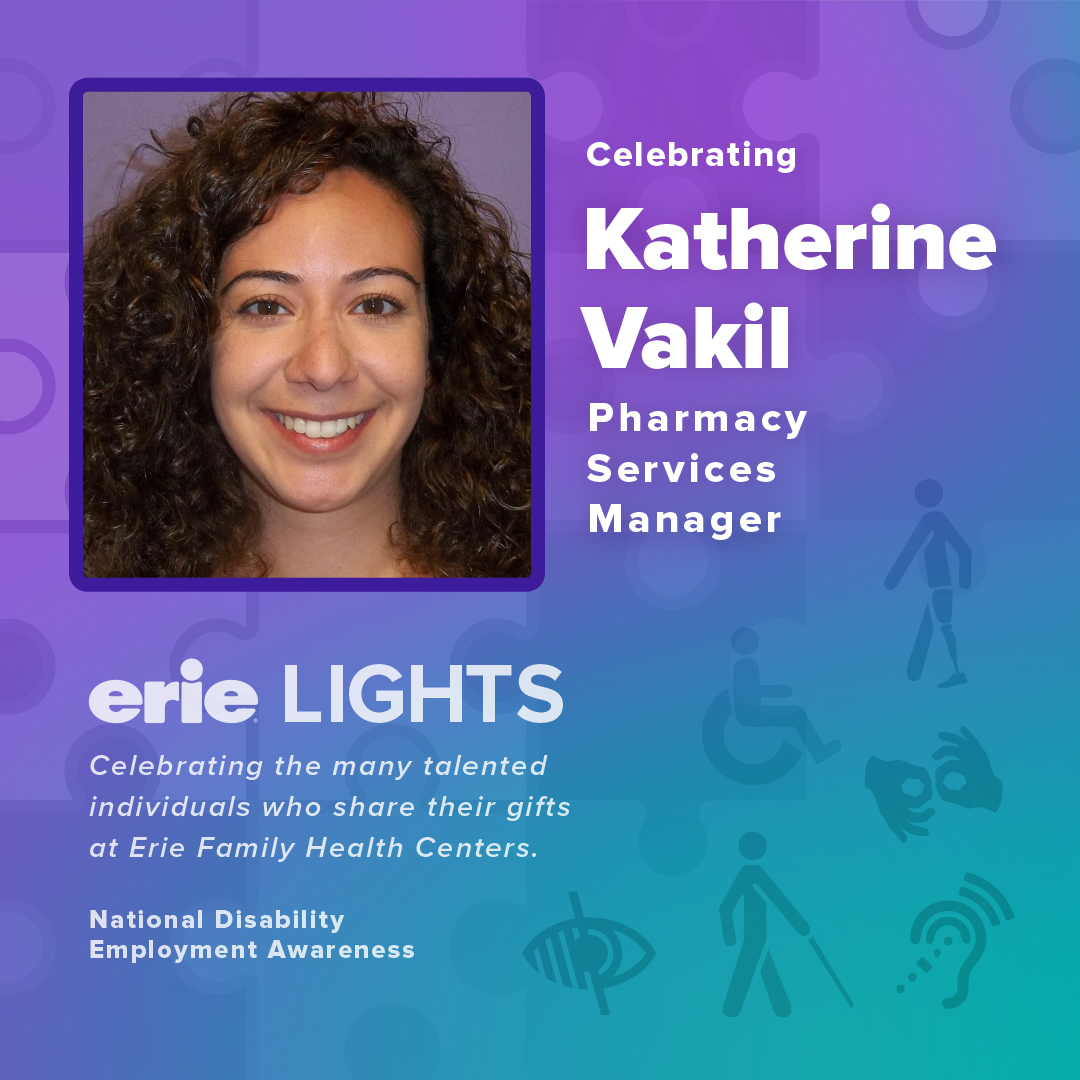 Katherine Vakil became involved with Erie six years ago through population health. Now, as Pharmacy Services Manager, Katherine works with a team of pharmacy technicians and pharmacy liaisons to ensure that all Erie patients have access to affordable medication. Outside of her work at Erie, Katherine volunteers with the Puebla Service Project as a Spanish interpreter. In 2022, Katherine was one of the few emerging leaders with disabilities chosen to be a fellow of the Disability Lead Institute. In 2022, she set a goal to continue to unlearn the ableism and negative talk surrounding disability and to launch a Disability Employee Resource Group at Erie, which will begin meeting on November 16.
How did you get started in this industry, and what led you to Erie?
I started out working in the retail pharmacy environment. It was great. I learned a lot, and a lot of that information I use to this day to help patients navigate the pharmacy world. But in addition to the pharmacy, I also have a public health background, which led me to Erie. I wanted to connect the two, pharmacy and population health. So, I started at Erie working with Population Health Outreach, and then over time, I created this pharmacy services team to become what it is today.
What does disability employment month mean to you?
Disability Employment month has been me embracing all people with disabilities in the workplace. For me, when people hear the word disabled, it automatically brings up a negative connotation, like somebody is lacking something or cannot do something. Whereas, I see disabled people as probably the most creative and smart people I know because they encounter challenges every day and find new ways to do the same thing. In my mind, I think people in the position of hiring should seek out those that are disabled because they bring a unique perspective and a fresh outlook on the variety of ways of problem-solving and things like that.
How has being hard of hearing shaped your life, personally and professionally?
Back then, I didn't realize it, but now I know that being hard of hearing, I've had to work four to five times harder than a hearing person to be on the same playing field as someone else. But that, I think, in turn, has resulted in me being a very hard worker and someone that's always trying to do better. As a healthcare professional, it made me more empathetic and more understanding because I understand the challenges we go through every day to be able to do basic things that an able body person might do.
How do you feel you are breaking barriers in the workplace in healthcare?
I think the biggest thing is just sharing my story. As someone who just started in pharmacy, it would have been something extremely helpful for me to see someone else who has gone through the same thing. My biggest goal as a disability advocate is to reframe how we think about the word disabled and disabled people. Again, it's not a negative thing, and it's not something that needs to be fixed. So, we should work to adapt our world to be inclusive of all disabled people, and in that world, that also includes the workplace.
What is something you cannot live without?
The first thing that comes to mind is my journal. I'm always writing my thoughts, little stories, and poems. I hope to share my story as a disabled person and get that out there and hopefully make a positive impact on the world.
What is something that not many people know about you?
A very long-term goal of mind is to publish a book one day, hopefully.
What type of book would you like to publish?
I have so many ideas, but probably related to this topic would be a memoir of being a hard-of-hearing person and how I became a pharmacist.
What are some goals for the Disability Employee Resource Group in its first year, and who should people contact if they're interested in joining?
My first and foremost goal is to create a safe space for any Erie employee with a disability to be able to share any challenges that they might be facing and share ideas of how we can make a more inclusive work environment for them. My second goal is to help educate. I'm also learning and going through my disability journey. As I learn, I want to share that with Erie and the rest of the world. Just things like what is appropriate disability language to use, our history of disability here in the US, and how we can come today just into the ADA (American Disabilities Act) and where we are today. So those are my two top goals, but many more to go after. I would love for anyone interested in joining to contact me directly, or they can also get in contact with Kellie Medius, our DEI officer. (or Co-Chair Sam Salcedo) First meeting will be Wednesday, November 16 from 9-10am!
In the spirit of autumn, what is your favorite activity when fall comes around?
I think there are still a lot of fun outdoor activities to do, like going to the pumpkin patch. I now have a one-and-a-half-year-old daughter, so I think it will be more fun to cook, go to the different pumpkin patches, and see the excitement and joy through her eyes. I also hope to go someplace like cherry picking or apple picking with her.