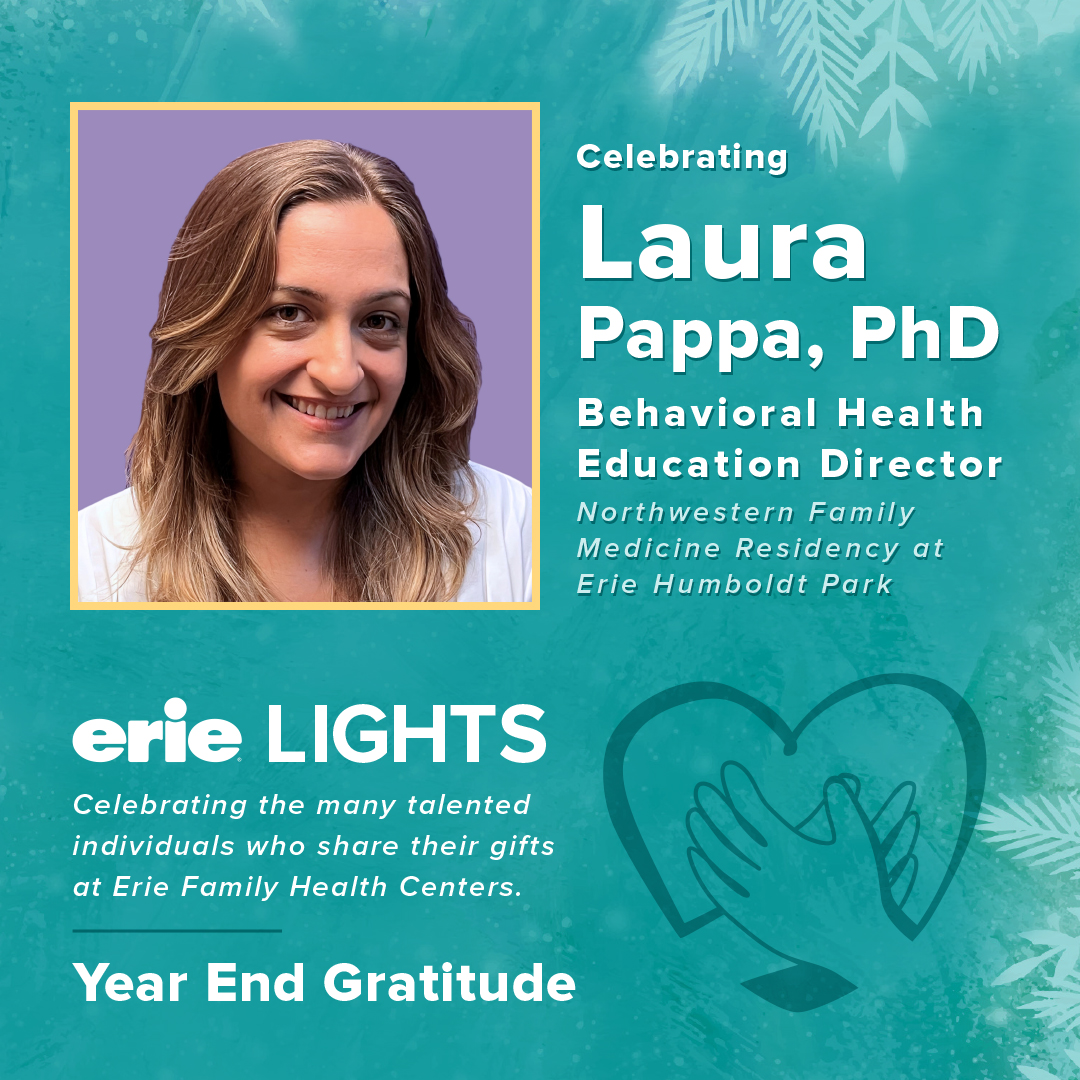 What was your journey before joining Erie?  
I was born and raised in Buenos Aires, Argentina and moved to the US in the beginning of High School. I did not particularly think I would ever become a psychologist, but the more I learned about the field, the more I saw it fit with my life and values. I earned my BA at University of Maryland, College Park and then decided to take a year off to work both domestically and abroad (Brazil). Upon returning to the US, I moved to Ohio where I completed my doctorate in Counseling Psychology. Early in my career I found my lifelong passions: women and perinatal mental health, particularly across the Latinx communities. I moved to Chicago to complete my year-long internship at Advocate Illinois Masonic Medical Center where I worked primarily with the Latinx population, and then I decided to pursue a fellowship at Northwestern's Asher Center in perinatal and women's health.
What brought you to Erie?  
There were two main reasons why I was interested in working at Erie. First, the possibility of doing clinical work while also keeping an educational role. Second, continuing to serve underrepresented communities and improving their access to care.
What inspired you to pursue a career in health education?  
What inspired me to pursue a career in health education is my own understanding of the importance of promoting health equity and reducing health disparities. As a psychologist and educator, I have had the privilege of learning about a wide range of mental health-related topics, and I use this knowledge to educate others and help residents make informed decisions about the mental health of their patients. I know I can make a difference in reducing disparities by providing targeted education and support to underrepresented communities.
Can you walk us through a day in the life of a Behavioral Health Education Director?  
My days vary quite a bit! Sometimes I go see the residents at Swedish Hospital where they provide inpatient care, sometimes I spend my admin time working from the providers' office to be available for residents to consult of behavioral health concerns. I also do many live observations of resident-patient interactions and prepare monthly didactics for residents including presentations to improve behavioral strategies, increase cultural humility, and promote self-care. Additionally, I see my own patients, and will soon be running the Spanish-speaking women's support group with Maria Flores.
What has surprised you most about working at Erie?  
That no day is ever the same. I love coming to the office in the morning not knowing what to expect! There is always something new going on and a new opportunity to learn just around the corner.
Can you tell me about a time someone on your team or a patient inspired you? 
In the very brief time I have been at Erie, I have been inspired by the work that everyone here does. I am impressed by people's desire to do better for the community and for going the extra mile for patients. I perceive Erie's clinicians and staff as "talking the talk, and walking the walk".
What is the best lesson you've learned so far in your career?  
That our lives can change in just one moment, so we need to be kind to one another and support each other rather than approaching life as a competition.
Do you have a favorite quote or mantra? 
"Do unto others as you would have them do unto you."
What is something that most people don't know about you?  
I'm a compassionate animal lover who loves spending time with furry friends of all shapes and sizes.
What are you most excited about this holiday season? 
I will be traveling to Kenya and Tanzania for the first time with my husband!
What are you most grateful for in 2022?  
Health, family, and having joined the Erie community.