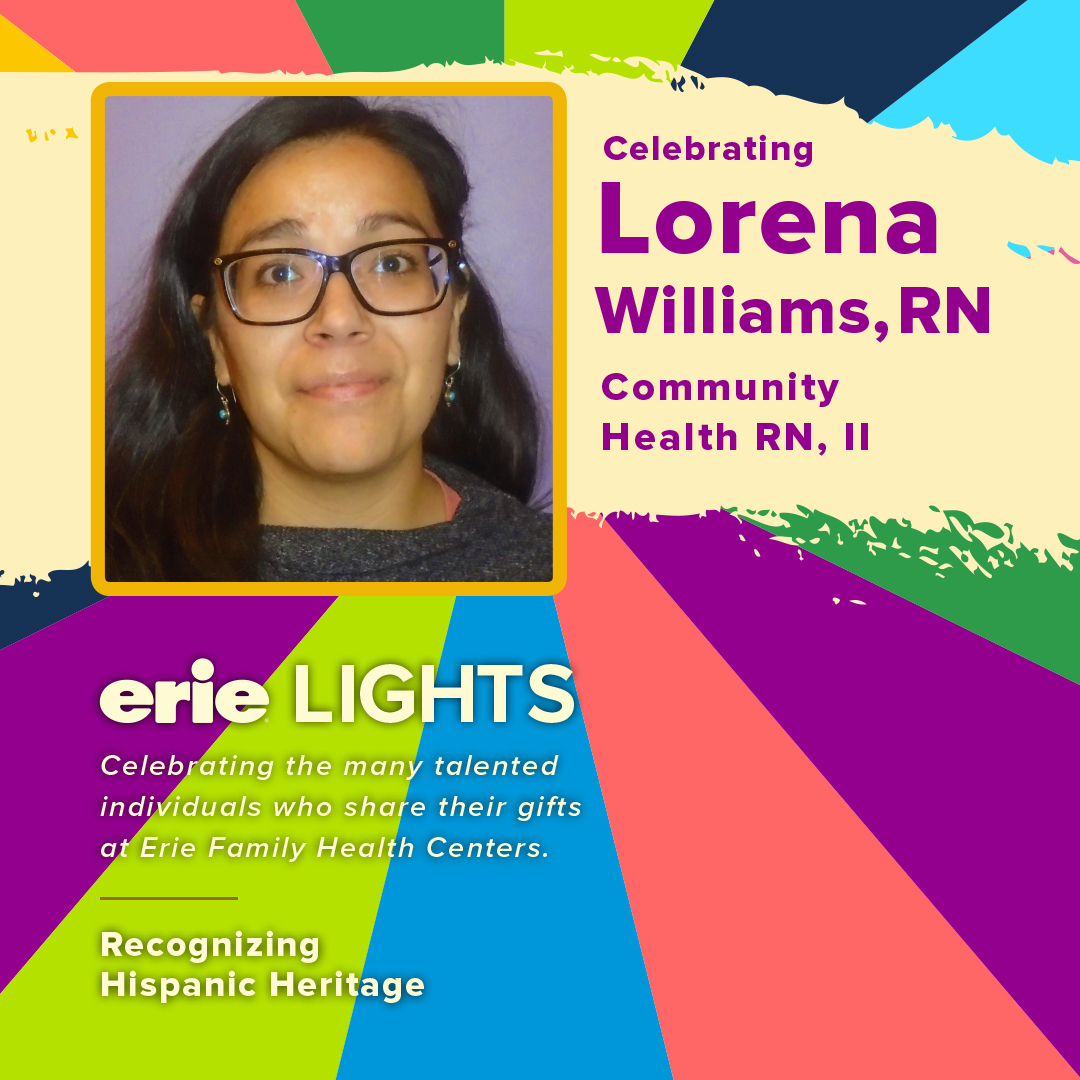 Lorena Williams started in a pediatric clinic where she worked as a Medical Assistant while completing her nursing school programs at Malcolm X College and Purdue University. In 2019, she joined Erie as a Community Health Nurse, where she does everything from providing patients medical education to helping them assess their symptoms. "I was an Erie patient when I was uninsured, so I knew what Erie represented," said Lorena. "I learned how great Erie was for the community, so I wanted to be a part of that team, so I applied and was hired." 
How did you start in this industry, and what led you to Erie? 
I started working as a medical assistant in a pediatric clinic. I love the clinic atmosphere, seeing some patients back in the clinic, having rapport, and building relationships with them. I was in nursing school while working there. One of my friends, who I also went to nursing school with, was working here at Erie, and she loved working here. She told me to apply to work at Erie. It's a great place to work. I was an Erie patient for about ten years when I was uninsured, so I knew what Erie represented. I learned how great Erie was for the community, so I wanted to be a part of that team, so I applied and was hired. 
Can you give us some background on your family heritage? 
My family is from Morelos, Mexico. They're from a city called Cuernavaca. They nicknamed it the eternal springtime. It's supposed to have beautiful weather. I haven't had the pleasure of going back since I was a child. I've been in Chicago pretty much my whole life. When we first moved to Chicago, we lived in the Humboldt Park area, then we moved to the Avondale area, and I moved around the city, currently on the North side in Lakeview. 
What was life like growing up as an immigrant, and how has it shaped you? 
Well, it had a good share of challenges. It was not easy. I came to Chicago and didn't know English, which was a culture shock. Learning to speak English at ten years old and being forced to assimilate with my American classmates, all those things posed challenges in my friendships, and finding my own identity was a struggle growing up. The pull from, you are not Mexican enough, you're not American enough, that seems to be the narrative for many immigrants and, you know, children that are first or second generation, is a very common challenge. Sometimes it can be a problem. Sometimes, people rise above it. I think I struggled with higher education the most. It took me a very long time to get to where I am, mostly because of the limitations that I had financially, and I didn't have access to financial aid or a lot of opportunities for grants or scholarships. You have to be a citizen to be able to qualify for those. And yes, there are a lot of scholarships for undocumented people, but I never got the opportunity to win them. I found myself working alongside school, and it was grueling. It was a long road. 
Are you a DACA recipient? 
I am a DACA recipient. As soon as I heard of that program, I found an attorney, we got to work, and I received my first work permit with DACA in 2012, which I think was the year it was presented. It's been about ten years. 
What does Hispanic Heritage Month mean to you? And why is it important that people acknowledge observances such as this one?  
Hispanic Heritage Month is a great opportunity for me to remind myself to look back at my ancestry, reminisce about the beauty of my culture, and allows me to remember how far I've come personally. But it's also a great reminder for everybody to look at all the different cultures that make up America now. It's not just one thing. And people come from all sorts of places. They all have backgrounds, and it is just an amazing way to see where other people come from, what other people's experiences have been here in America, and learn a little bit about their culture. Myself. I was born in Mexico. I am Mexican, but I do not know much about life in Mexico. My whole life was here in Chicago, in the United States. It is always amazing to see what kind of festivities and traditions they celebrate in Mexico are different from here for me. I like to read about and watch videos or go to the Mexican Fine Arts museum and get reminded of the beauty of our differences.    
How do you feel you are breaking barriers in the workplace and healthcare? 
I mean, living in a major city like Chicago and being a bilingual nurse, I feel like that is huge. Growing up, I learned English before my mom did, so I accompanied her to most appointments with her doctors and my siblings. But at 10-11, I was her medical interpreter. There were times when she relied on me to interpret some of the forms she got in the mail, conversations with her employers, and medical things. It was a challenge for her to navigate the medical system. And so, when I decided to be a nurse, I knew that that was something that would help benefit the community. So here, working at Erie, I have the opportunity to be able to advocate for my patients and be able to provide health education in their language. And I think that's huge. That's not always the case in some areas of health care. 
What is your proudest achievement? 
I feel so proud of many things—one of them is my beautiful toddler. I have a two-year-old at home, and she's her own person, but I take credit for how amazing she is. But a personal achievement would be becoming a nurse. It was a very long road, and I think about how long it took me to get here. I didn't do it by myself, but I have my mother's hard work and all of the sacrifices that she made to give me these opportunities for me to be able to better myself and get a higher education. I think her, but also becoming a nurse and being able to serve the community from which I came is a great achievement for me.     
What is a fun fact about you that few people know? 
I am such a kid at heart. I love board games and going to the park and bounce houses. I recently went to Chicago Land's biggest bounce house, and we had a blast with my baby there. I love all things crafts, from embroidery to painting to crocheting. I love making things with my hands and all things Harry Potter. I'm a huge Harry Potter head. 
Name one thing you can't wait to do this fall. 
I love fall. It has a lot of fun things. I love Halloween. I am excited to figure out what costumes I will make for my husband, myself, and my baby, so we're a little family of trick-or-treaters. And I am celebrating my fifth wedding anniversary with my husband. 
With everything that you've been through and the experiences that you've had, how important is a program such as the Healthcare coverage for immigrant Adults at Erie? 
Oh, my goodness. I mean, we would see so much suffering without healthcare for everyone. Health care is a right for everyone. It shouldn't matter where you're from, where you come from. Healthcare should be available to all for all, for any reason. Without it, we would have a catastrophe. I think there would be people sick and unable to afford or go anywhere for care, so it would be catastrophic, especially in a city like Chicago, where we have a vast population of immigrants. We're everywhere, but especially in big cities. It's essential to have affordable health care for all. Chicago is beautiful in that everyone is from everywhere, and it is so unique, and that's why we're the best city in the world, in my opinion.