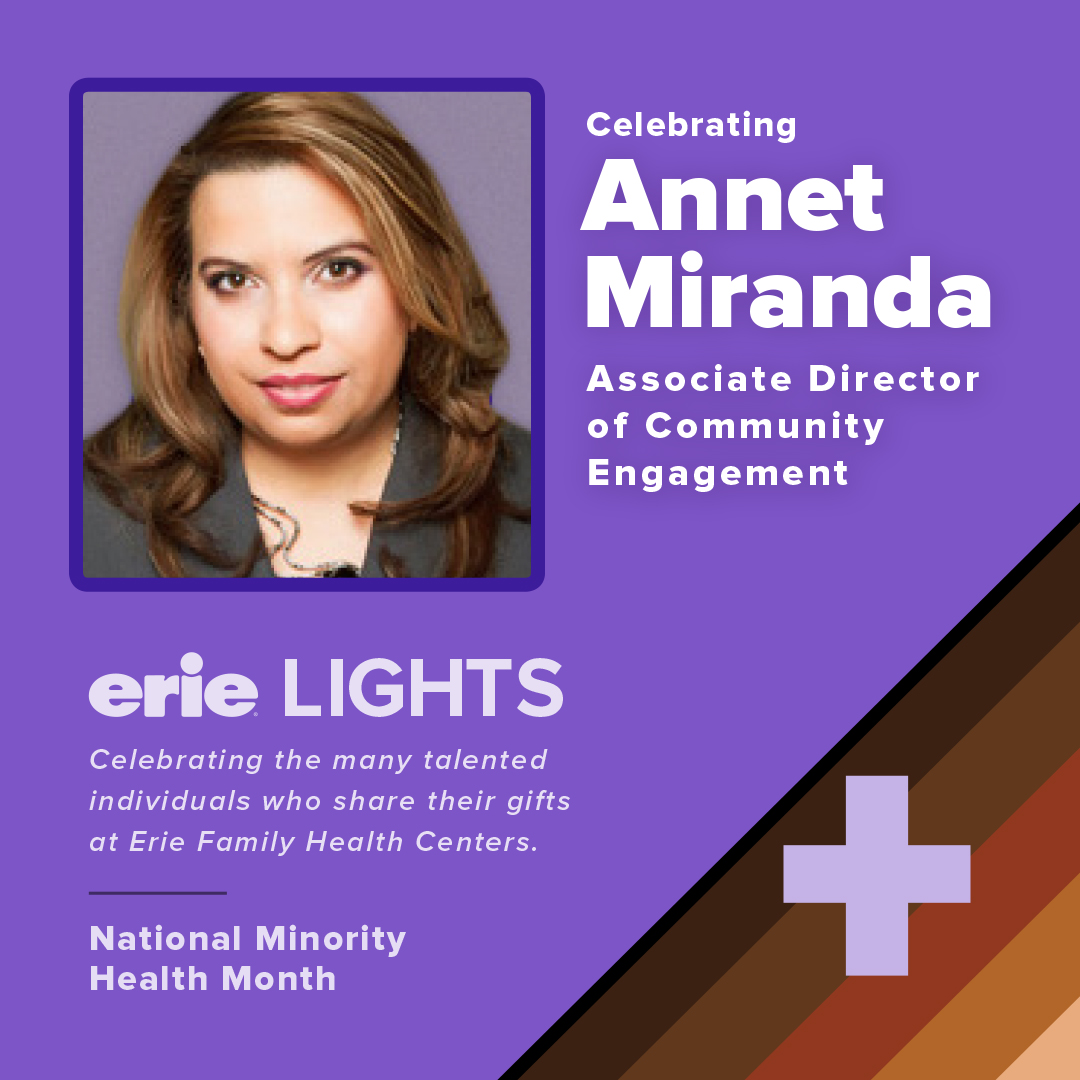 Annet Miranda started her work with the community at the University of Illinois at Chicago, where she received a bachelor's degree in Spanish Literature. She went on to a few different roles and received two master's degrees before finally landing at Erie. However, a familiar theme in all her roles is her commitment to serving her community. As Annet stated, "Leadership is not about your title; it's about how you inspire other people to be great."
What inspired you to pursue a career in community engagement?
It's funny because I did a 360. I've always enjoyed helping the community. After graduation, I worked as a social worker assistant, and that role was mainly about educating the community and helping the social worker with referrals. A few years later, I worked for a housing nonprofit as a resident organizer. Then I went to work for a financial institution during the housing crisis to do community development. However, I came to a point where I needed to do something different. Someone I knew sent me information about an account executive position at a marketing firm. It was not about handling an account; it was about helping the client achieve their goals. Erie was one of my clients at the marketing firm. From education to housing to government to marketing and to where I started, education.
What has surprised you most about working at Erie?
All the craziness with COVID. Being in a hectic setting during the pandemic reminded me of when I was going through the housing crisis at the bank. We had to be able to transform, go with the flow, and learn to be flexible. That was very interesting for me. I loved the way Erie took on that challenge. It also gave me the freedom to do what I needed to do to ensure Erie was in the community.
What is the coolest part of your job?
I love working with all the departments to educate the community and form relationships. That is a passion of mine. I love being outside and being in the community. In this type of work, you have to care about the community and be passionate about the work.
What is your favorite Erie memory?
The achievements are my favorite memories. I was invited to be part of the Live Well Lake County Steering Committee, a group that creates the five-year strategic plan for Lake County and how they're going to move forward on health issues. I also loved having the chance to put together a presentation to highlight some of Erie's work. I always love doing that kind of work because Erie does great work, but nobody knows about it.
When I'm not working, I enjoy…
Playing with my dogs. They give me a lot of joy. Napoleon is a chihuahua, and the other one is Leonidas Maximus, a miniature pinscher.
Do you have a favorite quote or mantra?
Leadership is not about your title; it's about how you inspire other people to do greatness.
What's the best movie you've seen lately?
Right now, I'm watching Rogue on Amazon Prime. I love all of John Wicks. I am not a fan of romantic comedies or any romantic movies.
In less than 10 words, what advice would you give a new Erie employee?
Be uncomfortable, be willing to learn, and do what you love the most. It's about taking risks. People sometimes get too comfortable at their job, but you have to be uncomfortable to try new things.
Why is minority health awareness important to you?
I think it's just highlighting the disparity there is in certain communities. How disease affects each community is still a bit different, and we have to be aware of that and understand its cultural implications. It highlights the "why." When you know the "why," you can solve the problem.