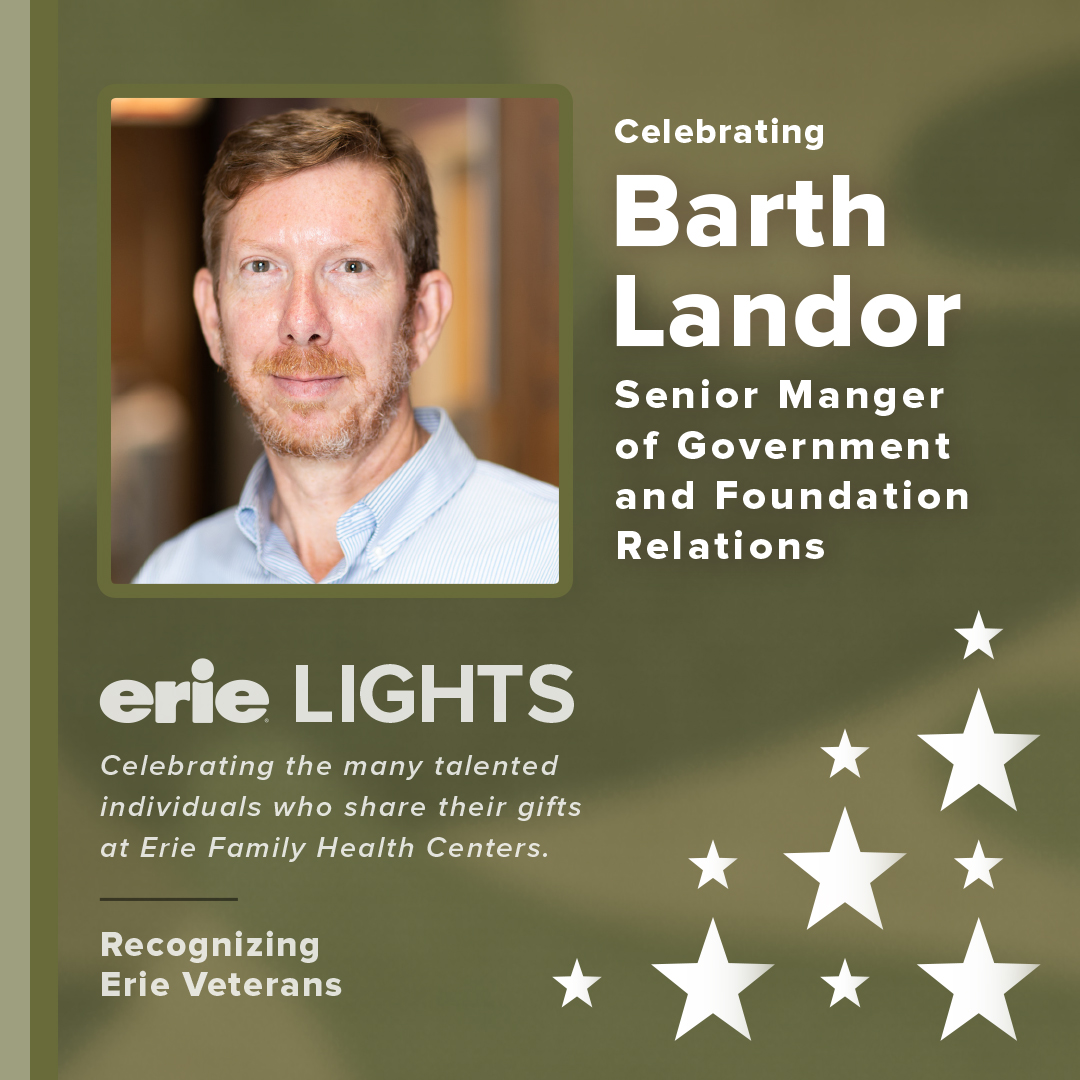 Senior Government and Foundation Relations Manager Barth Landor has been at Erie for five years, but his commitment to helping others started more than 30 years ago. After studying Russian while serving in the United States Air Force from 1981 to 1985, Barth taught English to immigrants and refugees at multiple colleges and universities in and oversaw educational services for immigrant families in Chicago.
What led to your career in Government and Foundation Relations?
I spent many years at a social services organization in Chicago running an education program for immigrant families. It was up to me to find funding to cover program costs, and I began to write grants and kept writing them. That experience was good preparation for my current position at Erie, where I write and manage government and foundation grants. 
What brought you to Erie?  
After 17 years at my previous agency, I was ready for change, although I was committed to staying in the non-profit world and working to support immigrants. Also, while I have spent much of my professional life in education, I have always strongly felt that everyone deserves access to good healthcare. Coming to Erie felt like a new start and a natural transition. Although I had so much to learn at first—it was like studying a new language. (What is a "preceptor"? I wondered. What are "grand rounds"?) 
What motivates you to wake up every morning and go to work? 
First, a pot of coffee, and then a desire to tell Erie's story as well as I can. I have the greatest respect for my patient-facing colleagues, who, especially during the pandemic, have cared for those in need with courage and compassion. I know all of us on the development team want our portrayal of Erie services to reflect the tremendous work of everyone who cares for patients. 
What did you do & how long did you serve (in the Army, Navy, Marines, Coast Guard, Air Force, Guard, or Reserves)? 
I enlisted in the United States Air Force in 1981 and served for four years. I trained at the Defense Language Institute, where I studied Russian for a year, and then I was stationed overseas at a base in England called RAF Chicksands. I was in the military while the Cold War was still going strong, and my primary job was to track Soviet aircraft. 
Why did you decide to enlist in the military?  
In high school, I was undisciplined, and my grades were lousy. When it came time to graduate, I had no idea what to do, and my father encouraged me to join the military to get out of my small-ish hometown and into the world. I agreed to that plan, but only if I could pass the test required for the language school. And I did pass and went off to basic training in Texas. At 17 years old, I was the youngest kid in a 50-man group, and terrified of the drill sergeants. But I stuck it out, got through basic training and then the year-long Russian training, and went to live in Britain, where I stayed after my service to attend college. The military did indeed get me out into the world. 
What is the best career lesson you have learned so far?  
To make the focus of my work not my career but the well-being of those we serve. 
How do you like to spend your free time?  
With spring having arrived, I've been spending time in my garden at home. We have a small yard, but last year we decided to create a native-plants garden, which draws butterflies, bees, and birds—and some hungry rabbits. I also have a raised bed to grow tomatoes and herbs. These days I'm spending lots of time pulling weeds, digging in the soil, stirring the compost—and just yesterday, watching a hummingbird sip sugar water at a feeder.  
What is something that not many people know about you? 
This military veteran and community health center employee has a lifelong fear of needles. Rolling up my sleeve, getting a whiff of the alcohol being rubbed onto my waiting vein, and feeling the tourniquet tighten on my arm all make me look away and tell myself to be tougher than I feel. I'm also an Erie patient, and recently a medical assistant drew my blood. She did such a fantastic job I didn't even feel the fearsome prick of the syringe. She was my hero that day. 
In the spirit of Summer, where is your dream vacation spot?  
I think the most beautiful place in the world is the Lake District in northern England. I'm a hiker and small-mountain climber, and that mostly gentle countryside is a little patch of paradise on Earth for me.