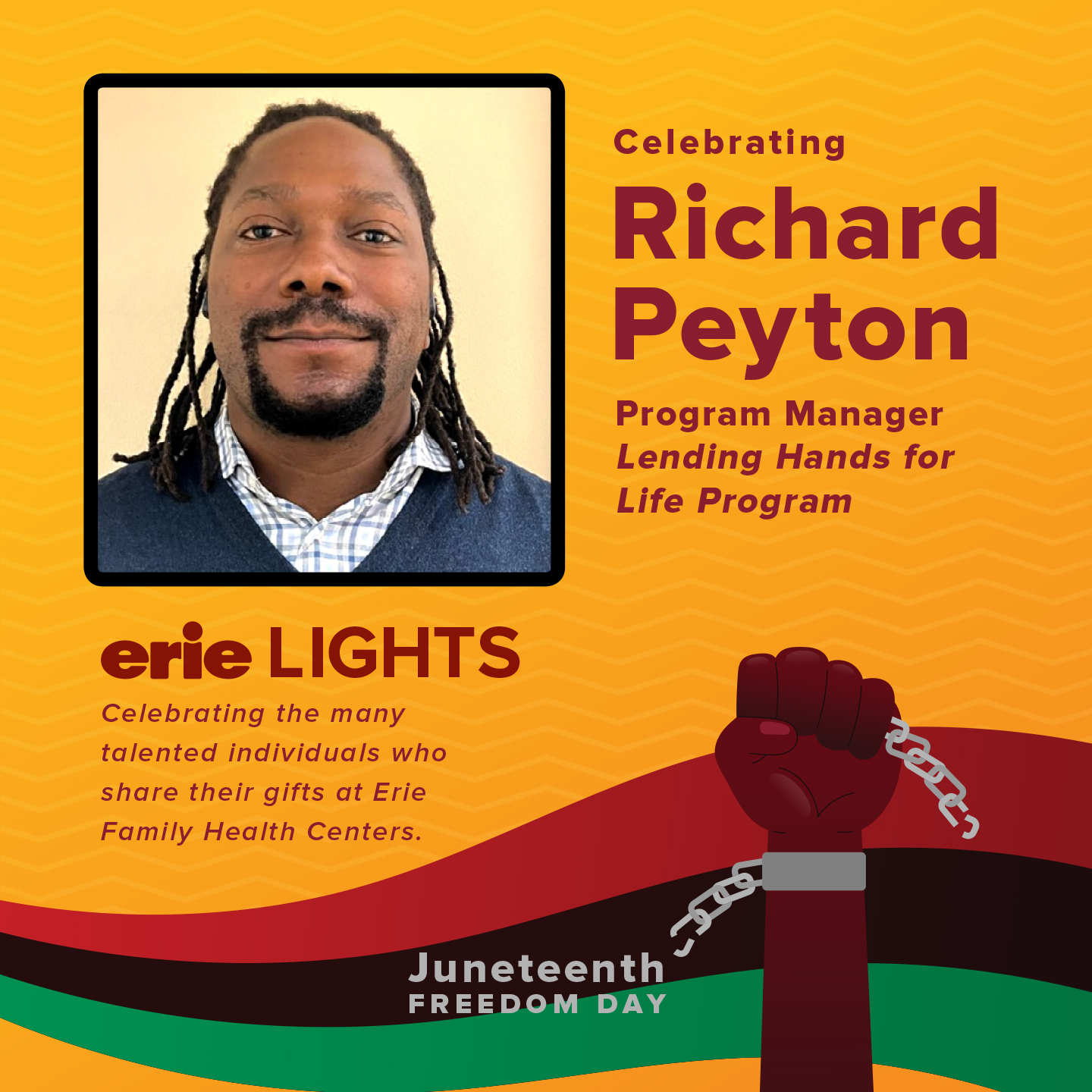 Take me through a day in the life of a HIV program manager.  
Erie's HIV program works primarily out of Humboldt Park, but we also have a site at Foster where we also provide care. Every day I get to do what I call being a player-coach. I work a lot with patients and clients and interact with them regularly. I'm responsible for all of the reporting from my department. I'm also responsible for the administrative needs around budgeting, ordering supplies, and some of the incentives or resources that we have for our clients. Part of my job is ensuring that we have enough incentives and resources to pass around and that we have the administrative backing to support them and ensure that people are getting what they need. I also work with our non-case-managed clients living with HIV who don't have someone they can work with. I help handle some of their administrative and medical needs. The other part that I at least think I do is to act as a thoroughfare for access to the LGBTQIA+ community around our clinics. Many of our patients identify with the LGBTQIA+ community, so I want to ensure that our staff is up to date on cultural sensitivity, terminology, and vocabulary. I take to heart being able to be a resource for people around us and understanding cultural sensitivity. 
What about your jobs motivates you to wake up every day, excited to go to work? 
One of the reasons is mentoring and leading the team that I work with, in helping clients. As I mentioned, being a player-coach, I don't get to connect with every client we have, but I like to think that I influence them through my team's work. That part gets me moving when I come in and help solve problems with the team. I also feel that our clients are unique and have interesting issues that they have to face. Working with my team and the clients to solve problems is the best. And that often includes working with Lacey and SDOH or working with Lisa. 
What have you learned while working at Erie? 
The biggest thing I've learned is that each person is unique. Sometimes we work with people with similar backgrounds or life stories and think they might have the same issues and that we should treat them the same way. However, each person has unique traits about them that we should try to find and use as a way to help them with self-sufficiency, validate them, and help them move forward. 
What advice would you give to a new Erie employee? 
I would say sit back, listen, and take care of everything if you can do so. You can learn a lot from the people that have been at Erie for a long time. Just sit, listen, and absorb as much as possible. 
What is your favorite summer activity? 
I like to run a lot. I have an 18-month-old son, so that has changed a bit. We like to walk around the city and do touristy stuff with him. Other than that, I would say that my favorite summer activities are working out, running around, and just enjoying summertime Chi. 
What was the first thing you looked forward to doing during summer break as a kid?  
I loved hanging with my friends around the neighborhood and going to parties. Now, I try to go to many cultural festivals around Chicago. Going to summertime festivals in the city is my big summertime hobby. 
What is something that most people don't know about you? 
I spent some time in Louisiana as a kid, was a cowboy, and did some rodeos. My dad was a truck driver and would work as a ranch hand. It's southeast Louisiana, so there are a lot of rodeos. My dad would work them, and I would compete in the kiddie rodeo, roping donkeys, riding donkeys, roping sheep, etc. I used to wear the cowboy hat with the string tie and cowboy boots. 
What would you say is a big misconception when it comes to cowboys? 
Cowboys were black. Other than Native Americans, we were and still are the ones doing all the cattle rustling and everything else because of slavery, servitude, and things of that nature. Some of the best shots, and some of whom would be considered the best cowboys back in the day, were Black people. 
Why do you think it's important for everyone to educate themselves on the history of Juneteenth?  
Everyone needs to learn the history and importance of Juneteenth. It's crucial for Black, brown, and non-Black people to learn about Juneteenth for a few reasons. One is that they need to know that when a law in America is made, it doesn't become active right away. The enslaved people were freed but weren't free. Nothing ever happens right away. It also shows that if we don't go out to fight for something, and if we don't keep our minds on the prize, we won't get anything done because no one will give it to us. Juneteenth, to me, is probably one of the most important holidays in the US because it highlights both how it was for us to have to wait so long after freedom was "given" to us to learn about it and how long it took for us to embrace that freedom. We have to be together. We have to be educated; we have to know what's going on to know where we can go and what we can do.