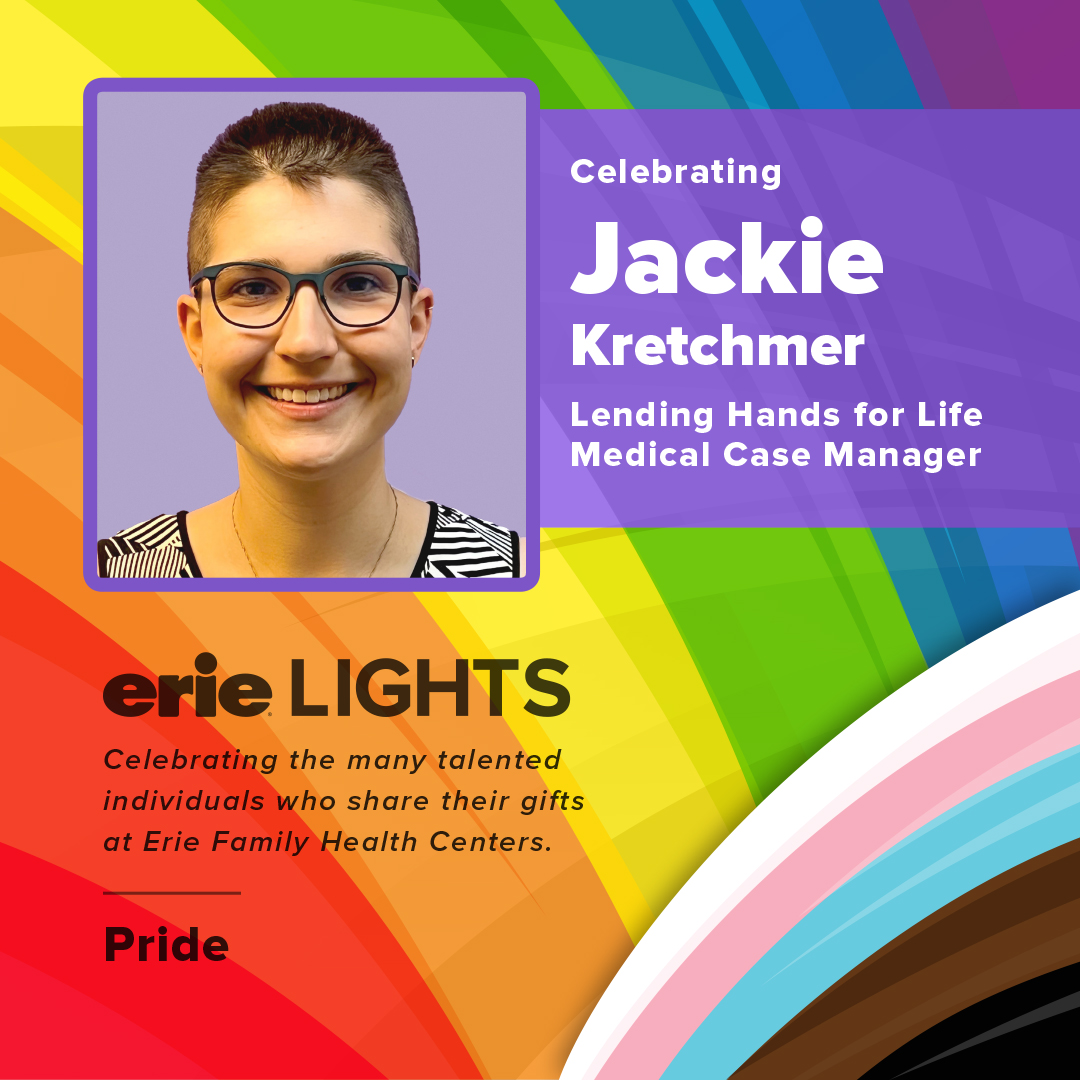 From teaching middle and high school students about sexual health to supporting patients in Erie's Lending Hands for Life program, Jackie Kretchmer constantly seeks opportunities to empower people to live their healthiest lives. As a Medical Case Manager at Erie Family Health Centers, Jackie advocates for individuals with diverse needs. Through her volunteer work, Jackie actively seeks additional opportunities to support Chicago families.
What inspired you to pursue a career in your field? 
With my educational background in gender and women studies and LGBTQ+ studies, I was interested in a career related to sexual health. I began my journey as a sex educator, teaching fifth through 12th-grade students in CPS and suburban areas. After teaching, I looked for opportunities to work more closely with people in need, which led to my role as a case manager, focusing on supporting those living with HIV.
What brought you to Erie? 
My roommate's dad was the medical director at Erie Foster, and her sister also worked at Erie. Both of them had raved about their experience. When I saw the job posting, I thought it might be a good place to apply. I wanted to work somewhere with the same values as me. I liked that Erie serves anyone, regardless of income or ability to pay. That stood out to me and sparked my desire to work here.
Can you walk us through your typical workday as a Case Manager for Erie's Lending Hands for Life Program? 
My workday varies depending on whether I'm in the office or working from home. Some days are busy with a constant flow of patients, while others are quieter for outreach and administrative tasks. I prioritize addressing patients' immediate needs on busy days as they walk through our doors. On quieter days, I engage in proactive outreach through phone calls, appointments, and research for my patients. I assist with locating housing resources, mental health support, and contacting pharmacies. With 49 patients on my caseload, many facing challenges like homelessness, mental health issues, and food insecurity, I provide social services similar to a social worker. My focus is on understanding their needs and supporting them accordingly.
What is the most rewarding part of your job? 
I love seeing the direct impact of my work. It is rewarding to find out that a client got housing from a housing program that I referred them to or that they have started retaking their medication after I began sending daily reminders. Many rewards come with this job, despite all of the challenging parts of it and all of the bad news I get. It's rewarding to hear and give a lot of good news.
Can you share a memorable moment, success story, or experience where Lending Hands for Life positively impacted an individual you assist daily? 
I had the opportunity to assist a 20-year-old client who had been homeless since 19. He had been forced out of his parent's house because his mother's new partner disapproved of his sexual orientation. For the past year and a half, he had been living in his car and relying on the support of friends. He shared his challenging situation with me when he joined my caseload. I referred him to our housing navigation program, which quickly secured him a safe and stable apartment. I arranged for furniture assistance to provide him with essential items such as a bed and a kitchen table he'd need to fill in an apartment. He had also been without access to his necessary medication, so I assisted him in getting back on track with his medication regimen.
 What are some of your favorite hobbies? 
I'm a catcher on a softball team. I volunteer with Farm Food Families, where I deliver meals to families in need on the south and west sides of Chicago. I also like to read, watch Netflix, hangout with my roommates, and do jigsaw puzzles.
What is something most people don't know about you? 
After my college graduation, I did a 30-day backpacking course above the Arctic Circle in Sweden and Norway with the National Outdoor Leadership School (NOLS). It was the most challenging but impactful and life-changing month of my life. I think a lot about the skills and lessons I learned on that course. Completing that course greatly influenced my ability to persevere during challenging times. It reminds me that I can overcome difficult situations because I have already faced extreme conditions, such as enduring 30-degree weather, heavy rain, and carrying a 60-pound backpack. Knowing I have the resilience and capability to handle tough circumstances empowers me. Some people may know my camping background and love for the outdoors, but they might not fully grasp how much it influences my everyday life.
How does Pride Month intersect with the work you do at Lending Hands for Life? 
Pride Month is significant for many in our program, especially our patients. For many of them, there has been a journey of self-discovery and acceptance regarding their identity. A substantial portion of our patients belong to the LGBTQIA+ community. Pride Month serves as a reminder that they can take pride in who they are, emphasizing the importance and value of their identity. It reassures them that they are seen and celebrated. Living with HIV can sometimes become the central focus of one's identity, causing other aspects to be overlooked. Pride Month helps to remind our patients that their HIV status does not define them entirely. It encourages them to embrace and celebrate their other identities as well.
What steps can we take to better honor and appreciate not only the history of Pride Month but also the history of the Queer LGBTQIA+ community? 
It is important to seek out various resources to expand your knowledge rather than solely relying on members of the LGBTQIA + community to educate you. Listen to what LGBTQIA + individuals say about their needs and desires for change. Avoid making assumptions and instead strive to understand their perspectives and support their goals.
For those outside the community, it is essential to view allyship as a continual learning process rather than a fixed state. Consider using "ally in training" instead of "ally" to show an ongoing commitment to learning, growing, and supporting the community. Recognize that being an ally in training requires consistent effort, including unlearning biases and continuously expanding your knowledge. This approach applies to all communities, emphasizing the importance of constantly engaging in the work of allyship and being open to personal growth.