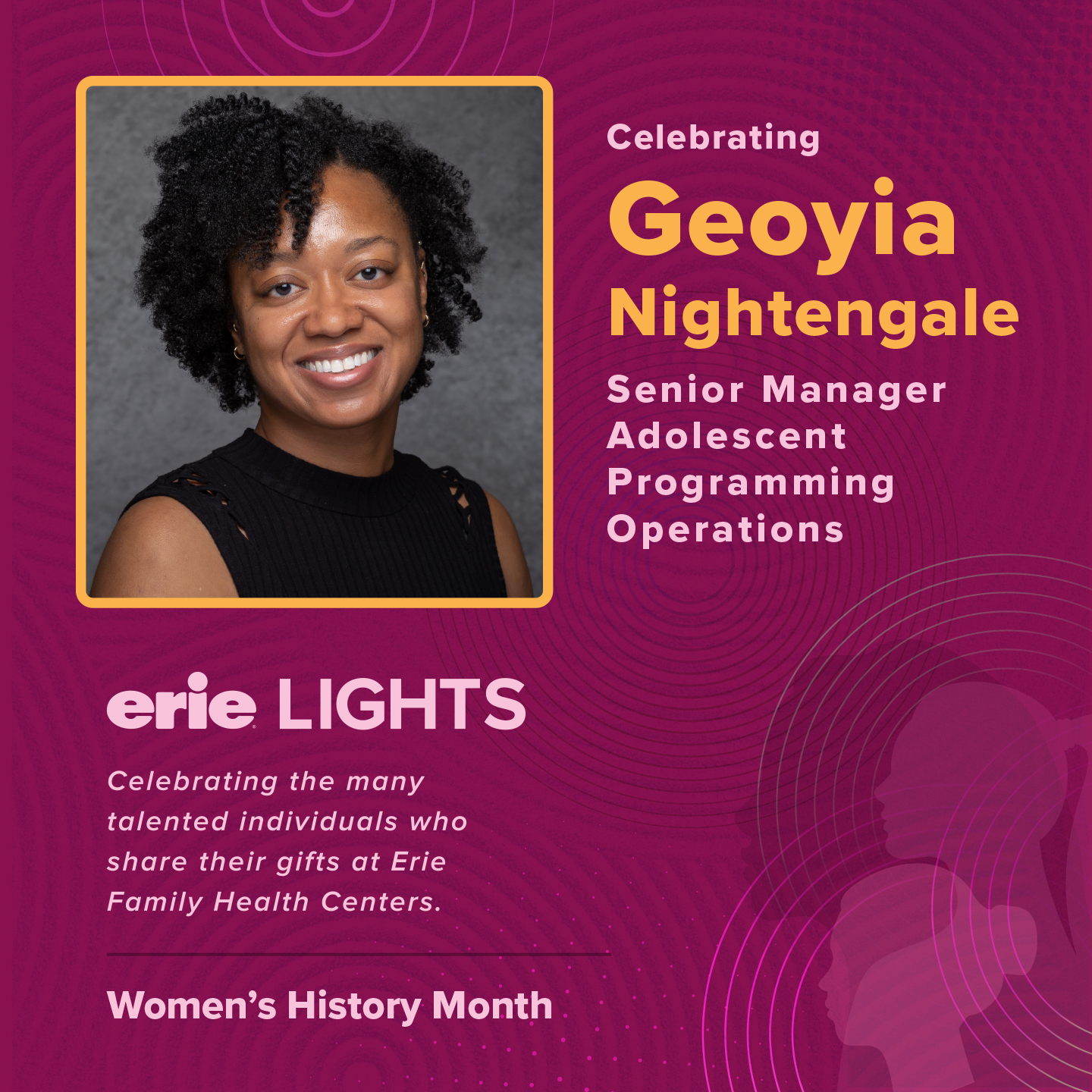 Chicago area native Geoyia Nightengale has been with Erie for almost seven years. Geoyia first served as a Patient Programs and Support Services Coordinator and is currently the Senior Manager of Adolescent Programming Operations and the HCO Director of School-Based sites at Erie. When she isn't working to find new ways to support the youth through her work at the school-based sites, she serves her community by coaching boys' basketball and officiating high school and collegiate track and field.
What was your journey before joining Erie?
I am from the Chicago area, the west suburbs. I did my undergraduate at Northwestern in Evanston. Then right after undergrad, I went to UIC to get a Master's in Public Health with a concentration in Community Health Services. In undergrad, I did a lot of community work with the Logan Square Neighborhood Association. I worked with CLOCK, the Consortium to Lower Obesity, and Chicago Children. As an undergrad, I did a lot of work with the Illinois Medical District, which is like an umbrella organization for many hospital organizations and initiatives near Rush, UIC, and the VA. After graduating and completing my work with the Illinois Medical District, I came to Erie.
What brought you to Erie? 
It was mostly networking. I knew of Erie from being at UIC and hearing about their work. In grad school, I lived north of Humboldt Park, so I always drove past Erie Division. But it was networking that brought me to Erie. Someone who I knew from the Illinois Medical District knew someone who was working at Erie and was looking to fill a position, and she recommended me to apply. I applied, at that time, for the patient programs coordinator role and got the job.
Can you walk us through the life of a Senior Manager for Adolescent Programming Operations and HCO Director of School-Based sites? 
As HCO, I oversee all the operational aspects of school-based, from front desk operations to our clinical support teams to our nursing team. I ensure that our sites have what they need to run efficiently and provide the best care to our patients. I do a lot of coordination, communication, and relationship management with our schools and the principals of those schools, the administration and teachers, and the CPS Main Office of Student health and wellness to ensure we have what we need to provide services for the students. We also make sure we can provide whatever needs that the school or the district has for their students and how we can work together to meet those needs. I also work with Kim Williams, the HCO Director for Division and Teen Center, on adolescent health initiatives such as the Youth Advisory Committee or social media campaigns. We're trying to work around Transitions of Care and identify Adolescent Champions to ensure that our school-based sites and teen center are adolescent-friendly and that Erie sites create an environment where young people feel safe and comfortable getting the care they need.
What's the best piece of advice you've ever received? 
The best piece of advice and something that I try to take into account daily is that it's okay if you need to reach out for help, assistance, guidance, or advice. It's okay if you don't know everything too. Sometimes, especially in positions of leadership, we always have to know the answer; we always have to know what to do. But I've learned that it's okay to reach out to other people for help or guidance or to reach out to those around you to get their advice or hear different perspectives about a situation.
Is there a historical female figure or a female figure in your life that inspires you? 
Annette White. She is a United States of America Track and Field (USATF) official. I am also a USATF official. I mainly officiate at different high school and collegiate meets. She is someone who has started world championship meets. She's worked at the Olympics, done national and D1 college championships, and is a starter. In USATF, there aren't a lot of Black officials in general, and then a lot of officials tend to be older, so it's not that many young officials either. I have been an official for three or four years now, and I am always looking for opportunities to continue to grow. I have the chance to be mentored by her. I value the experience as a young Black woman, to see another Black woman who's been able to move up the ranks in USATF to officiate these major meets. I can learn from her, be encouraged by her, and grow as being an official. She is someone I admire.
Where would you go if you could travel anywhere in the world right now? 
If I were to choose somewhere new to go to, I would pick Thailand. I've never been there, but friends and family have gone, and they just said they love it there.
What is something else people do not know about you? 
I'm a landlord. I have a goal to turn my investment properties into transitional homes where people who need a stable environment to get themselves back on their feet. Whether it's families or single adults, it doesn't matter, but that's a goal of mine. I have one property so far, and I hope to get another one, and then based on that second one, I was going to try to get this off the ground.
How do you balance everything in your life? 
It is hard, especially because now I feel that sometimes I stretch myself a bit, but it's important to be okay with stepping back and not feeling guilty about it. I spent a lot of time doing the things that I enjoy doing. Recognize when you're doing a lot, allow yourself grace to take a step back, and make sure you're doing something that you want and that makes you happy.
Do you have a favorite quote or mantra?
I do. Many people have told me that I'm calm and at least calmly approach leadership. It comes from something my grandma always told me: if you're going to pray, don't worry, and if you're going to worry, don't pray. If I can control it, I'll make a change. If I can't, I won't let it stress or frustrate me.
Is there anything you're looking forward to doing in 2023? 
Last year I got into these fitness-type challenges. I did a Spartan race last year, which is a three-mile race with obstacles. I'm going to do more of those this year. Someone else told me about a 100-mile bike ride that I will try to do, but I still need to commit to it. I'm learning to swim this year. I'm trying many different and new fitness things that I haven't done before, so I'm looking forward to training for those and then completing them.
What does Woman's History Month mean to you, and how do you plan to observe it? 
Women's History Month means acknowledging those women who came before you to fight for the rights women have now—taking pride in being empowered and empowering other women to be their true selves and go after their goals and dreams without any barriers. Then do what you can to continue to set a path for women to grow and progress in the world. I always try to show appreciation to the women in my life who have impacted me and who I value, and make sure that they know and understand that and then always give back to women. Later this month, my friend and I are going to do a service project at Women's Shelter. We'll go and talk to women, hang out with them, and just learn from them, listen to their stories, and hopefully, we can take those back and imply them in other aspects of our life.