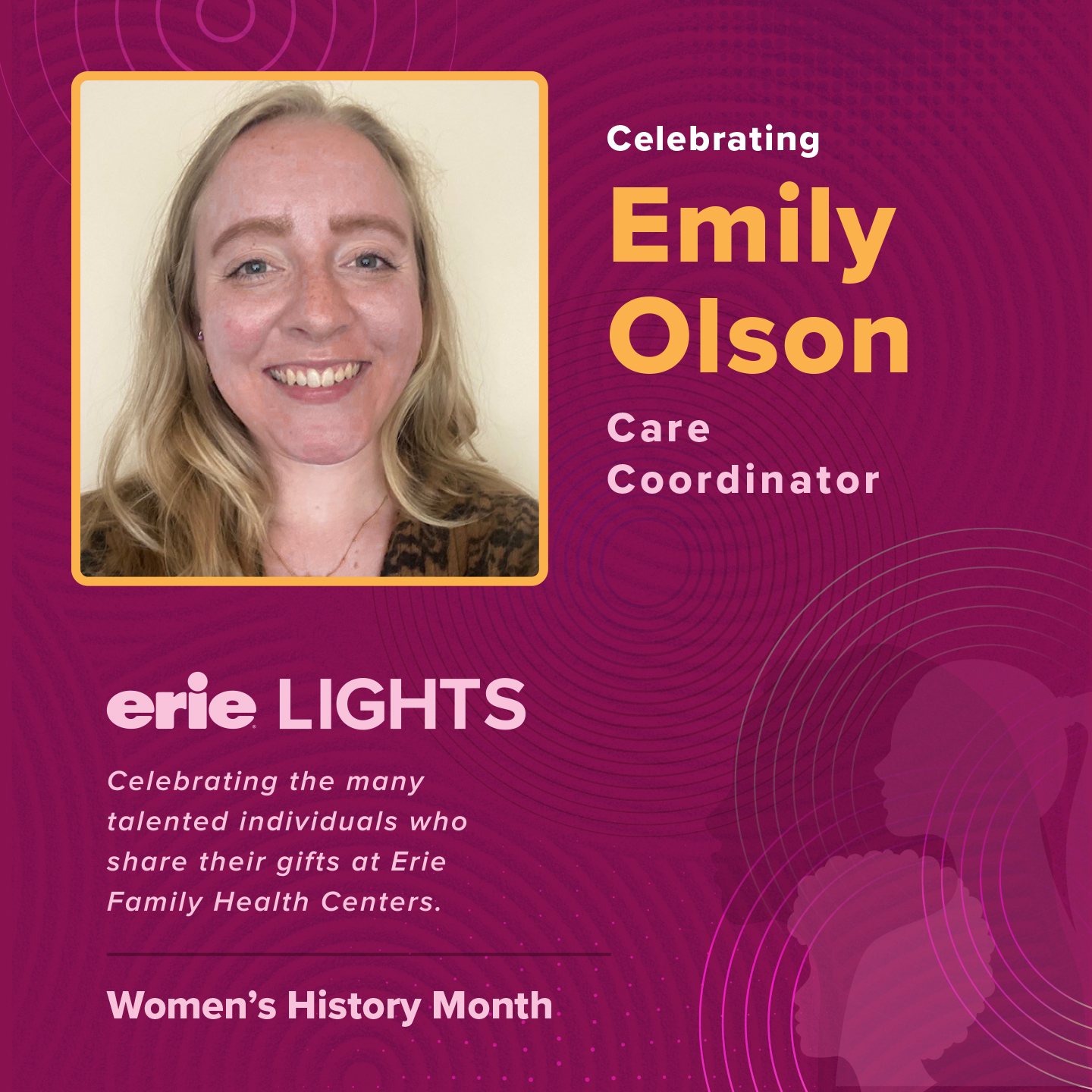 In the almost two years that Emily Olson has been with Erie, she has used her talents to serve in multiple areas. The Monmouth College graduate started on the development team when she first joined Erie and now serves as a Care Coordinator. From her years of nonprofit work to empowering other women in her community, Emily always seeks fresh ways to support those around her.
What was your journey before joining Erie? 
Before joining Erie, I got my bachelor's in Sociology and Anthropology from Monmouth College. I decided to do an AmeriCorps program for two years called City Year. I did that in Boston, where I worked at an under-resourced school for a year. The following year, I worked with donors of City Year to do volunteer projects at schools or parks across the US. It was super fun and inspired me to become a part of the nonprofit world. After those two years, I moved back to Illinois and moved to Chicago to pursue a career in fundraising. I enjoyed telling people that they should care about something I care about deeply and getting them to invest in it. I worked at the Chinese Mutual Aid Association in Uptown. It's a social services agency that primarily serves people in the AAPI community, and most of them are immigrants and refugees.
What brought you to Erie?
I was looking for more experience in fundraising, but at a bigger nonprofit. I was looking at places that aligned with my values as a human, and Erie was the perfect fit. When I joined Erie, I was inspired by the work being done here, especially by the SDOH team. It was something that I'd always been interested in but seeing it in real life and learning more about it made me think it would be a good next step for me. That brought me to the SDOH team at Erie after I was on the development team for about a year and a half.
Can you walk us through a day in the life of a care coordinator?  
Every day, care coordinators screen Erie patients to identify if they experience any social barriers. If they say yes, then we will connect them with resources in their area to get assistance, or we will provide them with our resources at Erie, such as Top Box Foods, where they can get a one-time delivery of food sent to their house. We see what their needs are, and then we connect them with resources in hopes that if we help take these barriers away or at least lighten the load a little bit, they may not have to come into the doctor's office as much or they will lessen their risk of something happening later in their life. We also assist providers and nurses at the clinic with patient referrals and other support.
Is there a female figure that has inspired you? 
I have many present female figures that inspire me. There are two that I look up to. One is Liz Plank. She's a feminist journalist and does a lot of good research on women and where there are real gaps in how we are treated in our culture. The other is Sonya Renee Taylor. She is the head of the radical self-love movement, especially concerning people in their bodies. She is just someone who I look to for encouragement, especially when sometimes societal norms can get you down. And we all need to radically love ourselves.
What is something that most people don't know about you? 
I love singing. I have been singing since I was little and have been in choir through college. Recently I joined a community choir in Hoffman Estates. It's a place where anybody could just come and sing.
Do you have a favorite quote or mantra? 
The greatest thing you'll ever learn is to love and be loved in return.
What is something you're looking forward to doing in 2023? 
I am excited to explore this new role as a care coordinator. I can already tell how much I enjoy it, and it will only get better,. I'm visiting some friends in Vancouver for the first time. I've never been, so I'm ready to hike the mountains.
What advice do you wish you had received yourself that you would give to someone else? 
As a woman, knowing how to use confidence would have been nice. I've been very timid throughout my life. But for the past couple of years, I would have liked to know how I can learn to love myself and use that to showcase my talents and give off the confidence that I can understand what I'm doing. And I do know what I'm doing.
What does Women's History Month mean, and how do you plan to observe it? 
I love women. Women are the coolest people out there. Women's History Month means looking back at those who have paved the way for women into the place we are now within our society - remembering them, reading about them, celebrating them, and then looking at women now and how we all continue to make the world a better place for ourselves. I love reading about women and their stories, so I'll do quite a bit of reading. I'll watch movies and TV shows directed by women and share resources and empowerment with my community.