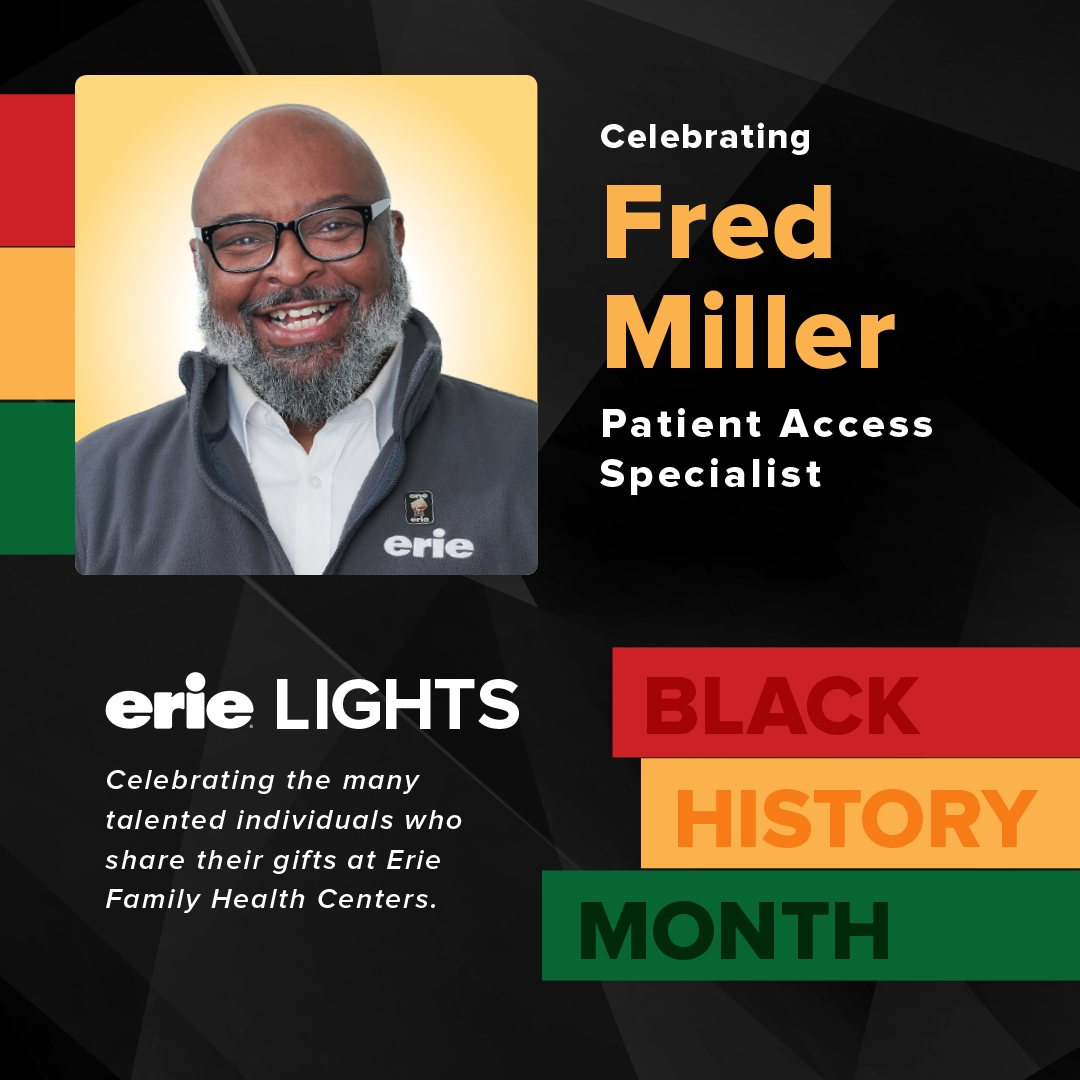 Patient Access Specialist, Fred Miller, started at Erie Family Health Centers in 2021. Along with serving patients at Erie, he seeks ways to assist community members outside the health center through his ten-year-old business, Darker Horse Creative. From providing quality patient care through customer service to hosting uplifting events for people in need, Fred Miller consistently finds bigger and better ways to help his community.
What was your journey before joining Erie?  
My journey pre-Erie was with the beauty industry. I worked with Soft Sheen products, one of the world's leading black haircare companies, for about 16 years with the original owners, then with L'Oréal after they purchased them for 20 years. My history comes from producing trade shows and managing events. I booked enough planes and trucks to last a lifetime, sending stages, models, photographers, and people everywhere. I also handled customer service for the entire company for trade shows and the like. Then I started my own company after I left L'Oréal, and I'm currently in my 10th year.
What is the name of your company? 
It started with Darker Horse Creative. I serviced everyone that I couldn't service working for L'Oréal. I contracted myself out to different haircare manufacturers and produced my own event, Beauty Bash. It was a fundraiser for people who worked in the beauty industry who couldn't get help with illnesses and other related issues. Each year we've raised money for organizations centering on AIDS, cancer research, kidney disease, homelessness, etc. We've done a lot in 15 years.
What brought you to Erie? 
My brother-in-law! My brother-in-law is Kevin Davis, Erie's Senior Director of Marketing and Brand Strategy. During the pandemic, haircare suffered a lot, and we couldn't travel and do events and trade shows. After everything started dying down, he knew I was trying to get back into the business and asked if I was interested in a call center job. I said, "Well, you know what? I'm doing nothing. It sounds good". He let me see what it was; I applied for it and got it. I have been here for about a year and three months because of Kevin.
Can you walk us through a day in the life of a Patient Access Specialist? 
A day in the life of a specialist is working on different tasks. We know that with the new introduction of MyChart, many patients go online to schedule their appointments. Specialists deal with those MyChart appointments. We also handle phone calls from patients who want appointments and discharges from NorthShore University and Swedish hospitals.
Have you received a particular piece of advice that you've held on to throughout your career?  
I've learned many things under the leadership of Edward and Betty Gardner, the owners of Soft Sheen. The first piece of wisdom I received from Mr. Gartner was, "In business, never take it personally. Never emote, and never let them know that you're upset. A million things can happen, and the first thing they'll pounce on is your emotions."
Another piece of advice I've held on to was, "Everyone has the opportunity to succeed. There can be a winner without a loser. There's room enough for Everybody."
Can you tell us about a moment in black history that has influenced or shaped your life or career? 
We had a thing called Black on Black Love that I was a part of as well from Soft Sheen. We would do weekend meetings and the regular Thanksgiving luncheon and Thanksgiving baskets. An older woman would come in every year to help with the baskets. Mr. Gardner would send a car to pick her up and bring her back. When we asked her why she came to help so often, she said she had nothing but time and wanted to help. After six or seven years of doing this, I ran into her at a street naming ceremony for the Gardners. She remembered who I was and told me that she hoped I was doing great things with my life because she still saw it. I later discovered that she was related to somebody big in black history and the whole black movement in the 60s. Her nephew was one of the planners during the 60s and 70s marches. It was amazing to meet people like that. She and those moments influenced my life.
If you woke up one morning with a new skill, what would it be? 
I'm a language fanatic. I want to have as many languages under my belt as possible.
What is something that most people don't know about you? 
I'm an open book, so everyone knows almost everything about me. I'm a cook, an artist, and a creative.
Do you have a favorite quote or mantra? 
You don't have to be great to start. But you have to start to be great.
The second one would be, spread joy everywhere you can. That is my mantra. Spread Joy. Approach Everybody, no matter who it is, with a smile in your heart and on your face.
What is something you're looking forward to doing in 2023? 
2023 holds a lot of things for me. I have been working on a cookbook since 2020. This year will hopefully see the publishing of my cookbook, the production of my barbecue sauces, and a couple of other things that I've always wanted to do.
How important is representation to you in health care and the community? 
It's very important because to be it, you have to see it. Little kids need to see a black nurse or doctor, somebody black in health care. If you see those people, you can achieve everything you've seen.
Why is celebrating Black History Month so important to you? 
It keeps us connected. I'm writing a cookbook because of the legacy of my family. My father's family has done the work, and we have researched back to 1840. We have information, papers, and pictures from our family dating back to 1840. Knowing what I know now, I connect with my family through food. And that's history. Knowing where we came from. Black history is important because it keeps us all connected and tells us what happened. The good and the bad, to avoid letting the bad happen again.