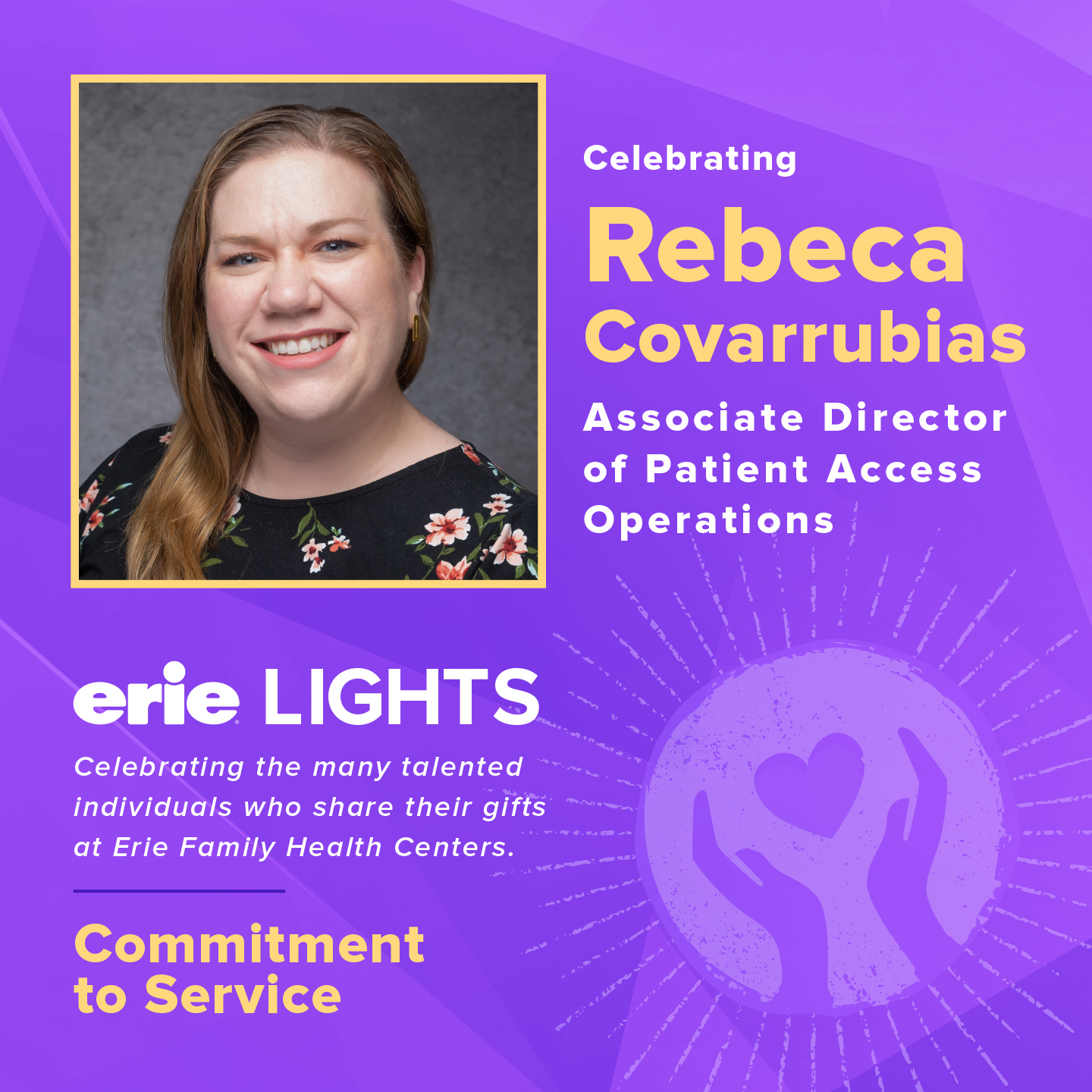 Six years ago, Rebeca Covarrubias began her journey through a fellowship and has been attached to Erie ever since. Along with leading her teams and serving patients at Erie, Rebeca spends nearly all her time helping others. From assisting her church with live-streaming service to serving on the DEI committee at Erie, her willingness to step up for people in need has not faltered. "When I see a patient or a family, give me a friendly smile, or say thank you, that truly fills my heart to continue to serve my community," Rebeca admitted.   
What was your journey before joining Erie?   
I'm originally from Madison, Wisconsin, where I attended the University of Wisconsin-Madison and studied Community and Nonprofit Leadership and Chicano studies. I'm a proud alumna of a pre-college program, the People program, where I received a tuition scholarship. I'm also an active alumna of Sigma Lambda Gamma National Sorority Incorporated. I moved to Chicago in 2015 to attend grad school at UIC in the School of Public Health. I completed my Master of Healthcare Administration. I did that through a fellowship at Erie under the senior operations team and working with our HCO directors on operations, patient access, and project improvements. I had a passion for community and nonprofit work and healthcare. I wanted to be a nurse, but that didn't work out. I found a creative way to study healthcare and operations and still make an impact in the field that I do, which is why I attended the UIC program.  
What brought you to Erie?  
I got to Erie through my fellowship, which was a great experience. I did my capstone project on improving patient access with the ease of scheduling here at Erie and how we could improve our central workflow training for scheduling. That was my first experience with Erie and how I got started. I took on my first full-time role as a scheduling manager under Kellie Medious and her leadership. I have grown through the organization, and I've been here ever since.  
What does service mean to you?  
Service to me means giving back to my community through my time, talents, resources, experience, whatever I can contribute, or helping. For example, giving service through my field of work if I do any extra projects, or helping at service events that Erie is hosting, whether in my neighborhood, park cleanups as an example, or with my church community. I serve weekly at church on Sundays, helping live stream our service to the community, which is great. I also serve monthly with my sorority alum group and attend some university alum events for service. I enjoy giving back because it has a significant impact.  
What inspires you to continue helping others?  
Honestly, it fills my cup to serve in my community. I'm enriched by it. My impact inspires me. I love seeing this ripple effect. If I help, they are inspired to serve and extend that reach and branch. I do enjoy fundraising and volunteering for nonprofits. Leaving that service legacy is important and inspires me every day.  
Can you walk me through a day in the life of an Associate Director of Patient Access Operations? 
I love what I do at Erie. Patient access operations are unique as we work with all 13 Erie health centers. We ensure the day-to-day services of the patient, seeing their provider, making sure that they get the paperwork and that everything is running smoothly pre their visit with their provider and after too. We want our patients to have an amazing customer service experience from beginning to end and make sure they feel that they belong and are included here at Erie. We believe healthcare is a human right. That motivates us at patient access, which motivates me daily. I oversee scheduling, operations, referrals, and a reproductive health specialist team. We build provider templates, we process the referrals, and we schedule the deliveries. I get to coach and develop my leaders on those teams and strategically plan for patient access. We figured out ways to streamline the team's processes and implement training and development. There are lots of meetings on my calendar as an associate director. But I enjoy developing my teams and working with some amazing leaders here at Erie under patient access and clinical operations, as well as co-collaborate.   
In the six years you've been here, has anything surprised you about your job or Erie?  
I have grown within the company and seen our staff grow. There are amazing career ladder opportunities. The team feels included and encouraged to apply for new things internally. We do a lot of work with diversity, equity, inclusion, and belonging, which I enjoy and am not necessarily surprised by, but I'm so happy and honored to serve as a trainer here at Erie. That was a new experience for me that I enjoyed. I love promoting the DEI and the purpose statement, where we uplift the mission, but we also ensure that patients and staff feel like they belong and are included, and we're upholding those values. That career growth for me personally and the staff I work with has been a rewarding surprise. There are many opportunities for team members here at Erie to learn and grow in whatever capacity you bring to the table.   
Can you tell me about a time when someone on your team or a patient inspired you?  
I've had many inspirational moments. The ones that stand out mainly are the resiliency of my team and our patients. Between a global pandemic and implementing our new electronic health record, they've been resilient to the care model changes and any new initiatives we instill or need to implement. Our involvement, particularly around the COVID-19 vaccine outreach, was with Project Chicago Plus in the Humboldt Park neighborhood, serving patients and community members to access the COVID-19 vaccine when it was first launched. That was an inspiring moment.  
What would you say is the best piece of professional advice that you've received in your career?  
The best advice is to be brave, take chances, and try new things. If you don't know the answer, ask for help. In any project I have been in, team members and leaders, if I don't know the answer, I go to them and partner with them, and we figure out a solution but be brave in your role and the career path that you want to take.  
If tomorrow you woke up and had a new skill, what would it be?  
To speak multiple languages. That would be amazing. I would love to wake up and communicate with so many different walks of life. I would love to be fluent in ASL, French, and Arabic in particular, but communication and languages go a long way, so I'd love to just right off the noggin learn that new skill the following day.  
What is something that most people don't know about you?  
I collect playing cards with states and countries that I've been to. I have a whole stack. I don't use them all, but that's an interesting hobby that I have.  
What is something you're looking forward to doing in 2023?  
Filling my cup for myself and dedicating more time to myself and some self-care, prioritizing my mental health, and trying something new. I started Latin dancing classes in 2023. I'm excited about that. I also aim to read at least one new book a month. I'm trying that for 2023. Hopefully, those practices will help me get away and dedicate more time to fill my cup so I can continue to serve and be enriched in that service.