Our Certified Asthma Educator works with patients to support their respiratory health, whether they have asthma, Chronic Obstructive Pulmonary Disease (COPD),  or are interest in quitting smoking, by helping inviduals understand their condition and manage symptoms to improve their health and quality of life.
Asthma is a chronic condition affecting the airway muscles of the lungs due to inflammation and irritation, causing narrowing and tightening in the airways.
Symptoms of asthma range from: shortness of breath, chest tightness, coughing, and/or wheezing.
Anyone can develop asthma at any time, though we may be more likely to develop asthma if there is a family history of asthma, have allergic conditions, or if we are exposed to certain environmental triggers.
Asthma can be manageable by:
Working your medical provider
Understanding triggers
Taking your medication
Symptoms of Asthma vs COPD
Some people who have asthma may develop COPD over time. Some symptoms may be similar but there are some differences. Not everyone with asthma will develop COPD and not everyone with COPD has asthma. When you have ASTHMA your airways are irritated. When you have COPD the tiny air sacs that are holding your lungs become damaged and are unable to filter the air.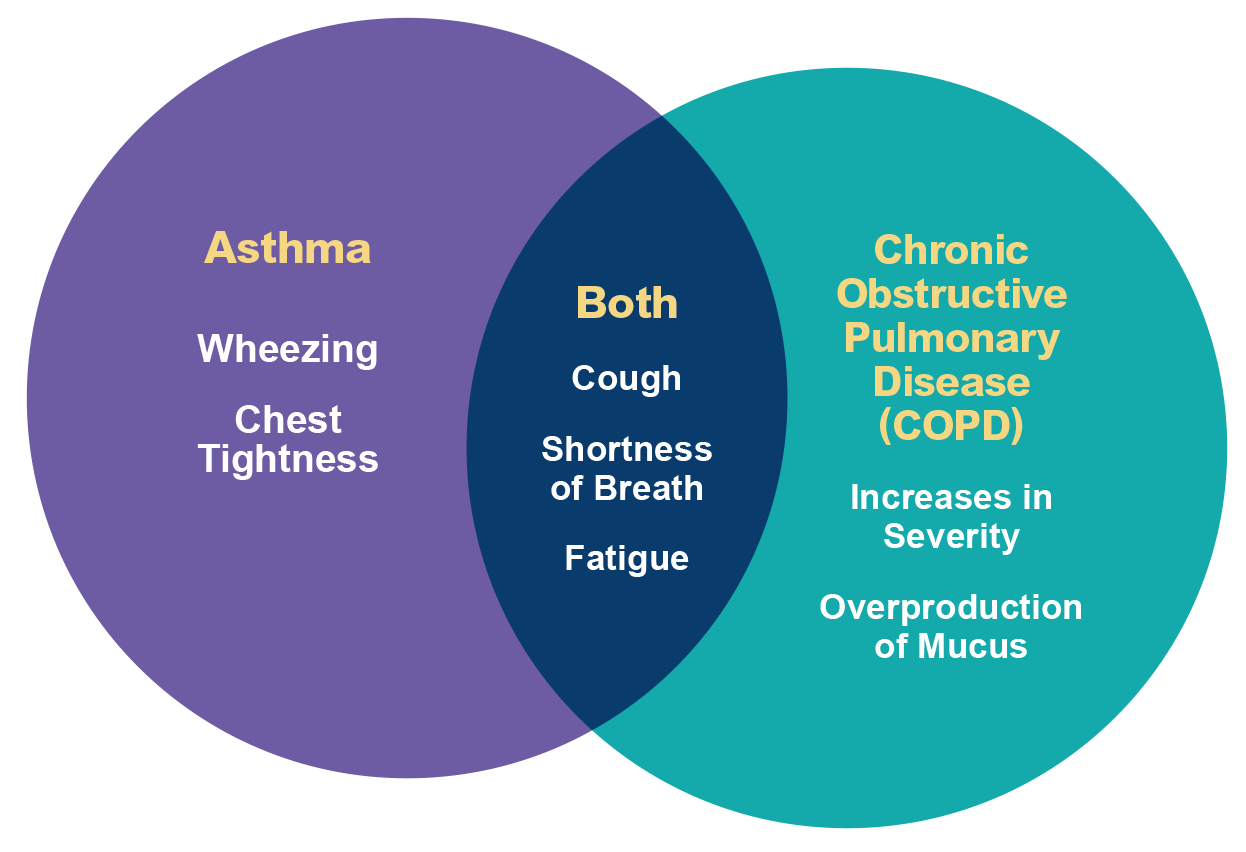 Chronic Obstructive Pulmonary Disease (COPD) is chronic inflammation and narrowing of the airways.
This inflammation causes the body to overproduce mucus, which builds up in the airways and obstructs the flow of air, making it difficult to breathe.
Common symptoms of COPD are:
chronic cough often producing mucus.
shortness of breath
Wheezing
chest tightness
Tips for Managing your Asthma
Learn about and how to avoid your triggers, as these can change over time.
Make sure you are using your inhaler, nebulizer, and allergy medication correctly.
Learn what a flare-up feels like and how to use medicine to help with symptoms.
Make sure you have a recent asthma action plan available. This plan is your personalized asthma treatment guide. Erie's asthma educator can update your plan if symptoms and medication change.
Talk about your healthcare provider about any changes you have had with your asthma and when to schedule your next appointment.
Keep up with annual vaccines such as flu, pneumonia, & others to avoid health complications.
How to Assess Your Asthma
Have you had shortness of breath, chest tightness, wheezing or coughing requiring you to use your quick relief inhaler more than two times a week?
Do your asthma symptoms interfere with your daily activities at home, work or school?
Do your asthma symptoms wake you up at night two times per month - or more?
Do you have to use your quick relief inhaler (albuterol) more than two times in one year?
If you answered yes to one or more of these questions, your asthma may not be well controlled. Erie's asthma educator can help you learn how to manage your condition. Call 312.432.2674 to schedule a health education appointment and create a free, personalized asthma action plan.
Support for Quitting Smoking
Smoking cessation is individualized support for patients interested in quitting smoking, and includes one and one counseling, as well as additional education regarding cessation medications and supports.
Smoking can have harmful effects on your blood pressure, blood sugar levels, asthma, COPD, and your heart health. Not everyone is ready to quit but learning on how to many small changes is a start.
COPD management is similar to asthma. Handouts and educational material may be applicable to both. Please call 312-432-2673 to schedule an appointment with the Certified Asthma Educator.
Videos for Adults on Asthma
Videos for Children on Asthma
If you are an Erie patient and interested in an appointment, contact us at healthpromo@eriefamilyhealth.org, or call 312.432.2763.
You may also fill out the below form to get involved in Erie Health Promotions and we'll be in touch soon!