Your gifts of time, talent, and resources help make Erie Family Health Centers a welcoming healthcare home for all. Thank you for your investment in the health of our community.

We recognize that patient revenues only cover a portion of the costs needed for Erie to deliver holistic, high-quality care that truly changes lives for the better. That is why we are committed to securing investments in the care that Erie provides to all, regardless of ability to pay.
Your donation supports essential programs and services that would otherwise be unavailable to Erie patients. Thank you for your investment in the health of our community.
Every dollar you donate to Erie Family Health Foundation helps Erie Family Health Centers empower thousands of children, teens and adults to achieve healthier, more productive lives.
Are you ready to go the distance for health equity?
JOIN Erie's first-ever virtual multi-sport and activity challenge,
Erie Moves: Persistence for the Distance!
In the spirit of coming together and moving forward as one community, we invite you to join us on an eight-week challenge to complete the distance between all Erie sites (50 miles) while raising critical funds for health education and non-medical patient services. (Our Goal: $35,000)
If you love to run, then get your shoes laced up, but if you prefer to do yoga, swim, hike, or dabble in sudoku, that's great, too. Any effort to move your mind, body, or spirit will count towards your 50-mile goal – we'll take care of the math!
Join as an individual or start/join a team! There will be plenty of opportunities to connect with fellow movers, share stories and selfies, win prizes, and have FUN.
For sponsorship and event partnership opportunities, please contact Emily Olson, Individual Giving and Events Coordinator, at eolson@eriefamilyhealth.org.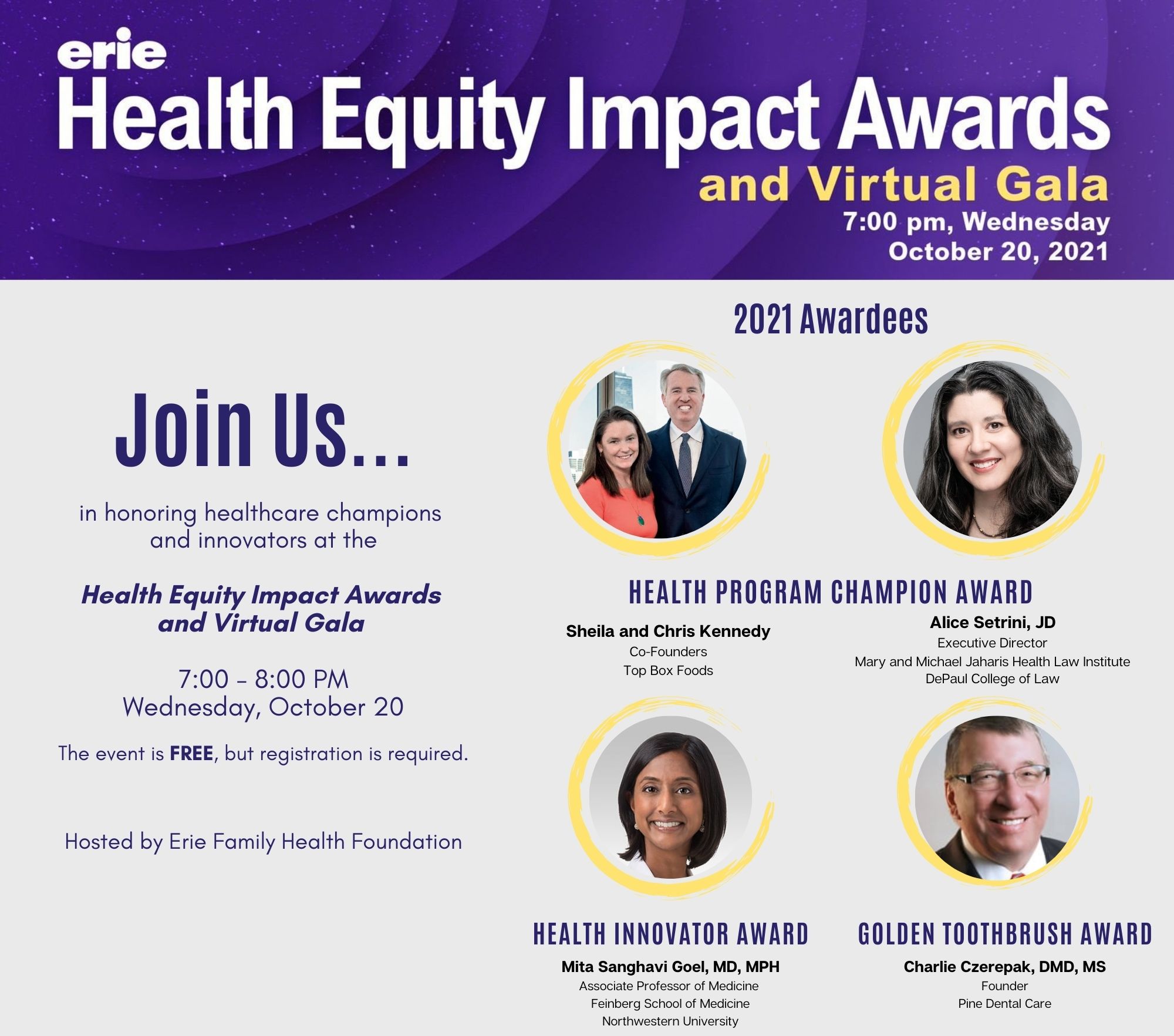 Let's come together as one community
committed to advancing health equity. 
General Admission: FREE / Premium Tickets (recognition + gift): $100
Funds raised at the gala will support Erie Family Health Centers' work to provide high-quality, comprehensive, compassionate care to more than 86,000 patients, regardless of ability to pay. Thank you for your support! 
Support Erie's Covid-19 Response
Thank you for your interest in supporting Erie Family Health Centers' mission, our healthcare providers, staff, patients, and their families during the COVID-19 outbreak. We are very grateful for the generosity, love, and compassion that you have shown the Erie community in these difficult times.
Erie Family Health Foundation is accepting a variety of donations that include support for continuing care for our patients, frontline staff support, and patient and family support. Together, we can build and sustain the work that needs to be done to keep our communities safe, strong, and healthy.
To donate by mail, please send your contribution to:
Erie Family Health Foundation
Attn: Development Department
1701 W. Superior Street, 3rd Floor
Chicago, Illinois 60622
QUESTIONS?
Contact Cathy Junia, Associate Director of Individual Giving and Events at cjunia@eriefamilyhealth.org to learn more about any of Erie's giving programs.
A gift of appreciated stock or securities will go a long way to help Erie Family Health Centers and provide you with an income tax deduction for the full market value of the stock.
For the purposes of proper acknowledgment and auditing, you (or the transferring broker) must provide the following information:
Your name and complete address
The number of shares and the name of the stock or securities transferred
To obtain Erie's brokerage account numbers to initiate a wire transfer, or for more information about supporting Erie's mission with a gift of stock or securities, please contact Cathy Junia, Associate Director of Individual Giving and Events at cjunia@eriefamilyhealth.org.
Perpetuate the ideals held by a loved one, honor a life, or acknowledge a friend's special occasion by making a special donation to Erie Family Health Center in his/her name.  Honorees or families of those remembered will be notified of your gift while the amount will remain private.
To make a tribute gift online, complete the donation form and use the Comments box to record the honoree's name and appropriate contact information for notification.
Planned giving allows you to make a larger gift than you otherwise could out of your current assets. Depending on how a planned gift is set up, it may also enable you to receive a stream of income for life, earn higher investment yield or reduce your capital gains or estate taxes. Planned gifts often appeal to people who want to support a charitable organization like Erie Family Health Center, but are not certain about the percentage of their assets that they will need during their lifetime. The most common types of planned giving vehicles are gift annuities, charitable remainder trusts, charitable lead trusts, charitable bequests and beneficiary designations.
For more information about making a planned gift to Erie, please contact Melissa Hilton, Vice President - Development & Executive Director, Erie Family Health Foundation, at 312.432.7463 or mhilton@eriefamilyhealth.org.
In addition to the benefit Erie receives from your cash donations, Erie's patients can benefit from donations of certain goods and services. Erie's in-kind wish list currently includes:
New or gently used clothing for children ages 0 to 5
Unopened packages of disposable diapers
New or gently used developmental toys for children ages 0 to 5
New books for children ages 0 to 5 in English or Spanish
New or gently used exercised-based video games (e.g. Wii Sport)
Catering services for large or small-scale events
Floral arrangements for special events
Donations to the silent auction at Erie's event Eriedescence, such as retail or dining gift certificates or other items
Please note that Erie is unable to accept donations of used or new medical equipment or medications.
To inquire about making an in-kind donation to Erie Family Health Center, please contact Ashley Moy-Wooten, Individual and Major Gifts Manager, at amoywooten@eriefamilyhealth.org.
You can increase the impact of your gift if your employer has a matching gift program. Some companies will also match gifts made by spouses and retirees. To take advantage of this possible benefit, please contact your employer's human resources department.
The Reach Out and Read evidence-based program builds on the unique relationship between parents and medical providers to develop critical early reading skills in children, beginning in infancy. 
Gifts for Reach Out and Read ensure that Erie doctors can continue to provide books to children and encourage early reading skills during their pediatric exams. Studies have shown that families who benefit from Reach Out and Read read together more frequently. As a result, their children enter school with stronger language skills than their peers, and they often score higher on vocabulary tests.
Make a gift to Erie's Reach Out and Read Program.
The Erie Family Health Centers Corporate Partners for Health Programs is…
A partnership between Erie Family Health Centers and local businesses in the communities we serve;

An opportunity to promote healthy and thriving communities through programs and services that provide direct, measurable results;

A commitment to future prosperity through investment in the health of those who live and work in the places Erie and our corporate partners call home;

An avenue to help ensure that each Erie patient continues to receive high quality care, regardless of insurance status or ability to pay.
To learn more about Erie's Corporate Partners for Health Program, including the benefits of membership, contact Melissa Hilton, Vice President of Development and Communications, at 312.432.7463 or mhilton@eriefamilyhealth.org
Every year Erie Family Health Centers releases an annual report to update our supporters on our impact in the communities we serve and the results of our programming. You can read our current annual report and peruse our archive below.